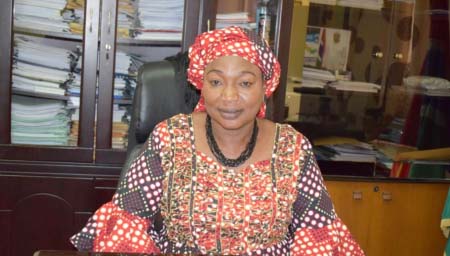 Minister Fabureh made this call on Wednesday 1 April 2020 at a stakeholders meeting in her office in Banjul. The meeting was attended by officials from World Food Programme (WFP) and Food and Agriculture Organisation (FAO).
In a statement at the meeting, the minister told stakeholders that in the wake of the covid-19 pandemic, different sectors of the economy are affected including agriculture. She pointed out that about 80% of the population derive their livelihoods from agricultural production activities.
"Coronavirus disease is exposing the population to high risk of food and nutrition insecurity with far reaching consequences especially on rural households,' the minister said.
According to her, the pre-harvest report 2019/2020 coincided with covid-19 and that has made farmers more vulnerable. "Presently, the 2020/2021 cropping season is already affected due to 2019/2020 drought and the aftermath has coincided with covid-19," Minister Fabureh explained.
With the current situation, the minister added that her ministry was anticipating that farmers will use seeds reserved for planting as food and sell the rest to generate income to buy other essential food commodities.
She pointed out that due to the precarious situation affecting the farming fraternity, quantities of different certified seeds would be required to address the plights of farmers in The Gambia.
The minister called on the donors and partners to support her ministry to address food insecurity of high vulnerable communities based on the pre-harvest report and support with farming inputs, seeds and fertiliser for 2020/2021 cropping season among other things.
The permanent secretary at the Ministry of Agriculture, Momodou Mbye Jabang lamented on the challenges facing the farming community in the country. He called on stakeholders to do everything possible to help farmers to overcome the impact of covid-19 on farmers.
Read Other Articles In Headlines