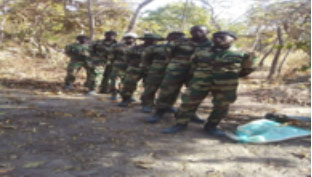 The two soldiers who were paraded in front of journalists from The Gambia and Senegal claimed that they were not been subjected to any form of torture and that they were receiving food and water from the rebels. However, the duo though seated had their hands tied behind them with ropes.
The seven captured soldiers who were stationed at Bwiam in the Foni District of the West Coast Region (WCR) are believed to be part of ECOMIG, the peacekeeping mission from the West African bloc ECOWAS in The Gambia.
The ECOMIG Forces and the MFDC rebels recently exchanged gunfire in the border line of Gambia and Senegal resulting in the death of two ECOMIG Forces and seven of the ECOMIG soldiers being captured.
The clash between the MFDC rebels and the ECOMIG Forces resulted in the evacuation of so many Gambians, especially those living around the border in the Foni Kansala District of WCR. Three Gambians who were also arrested by the ECOMIG Forces and detained in the Senegalese capital, Dakar have also been released by the Senegalese authority.
Salifu Sarjo, the leader of MFDC movement who was speaking during the presser claimed that they are not rebels, saying: "We are freedom fighters. However, recently we were surprised due to the fact that we were attacked by the ECOMIG Forces through our relatives, The Gambia. Again, sometime back there were reports that one of my sons was enlisted into The Gambia Armed Forces (GAF) which is totally false. In fact, I am not yet married and I don't have any child," he posited.
"I don't like fighting, but whoever wants us to fight we will fight. In fact, it's even better than even calling me to eat. If you people don't want us to maintain our relationship, then that's fine, but don't get up and come and fight me. I will not accept it. I am even ashamed to take a gun and go and fight in The Gambia."
"It's a big shame to me due to the fact that when we were fighting recently many communities around the area fled and left many of their items behind. If you people want to force me to a fight, then we will fight."
"I am urging The Gambia government to not allow it to be used by the Senegalese government to enter into this fight that they don't know anything about. If Gambia doesn't want to strengthen the relationship with Cassamace, then it's going to be difficult tomorrow because Gambia is in the middle of Cassamance."
Read Other Articles In Headlines