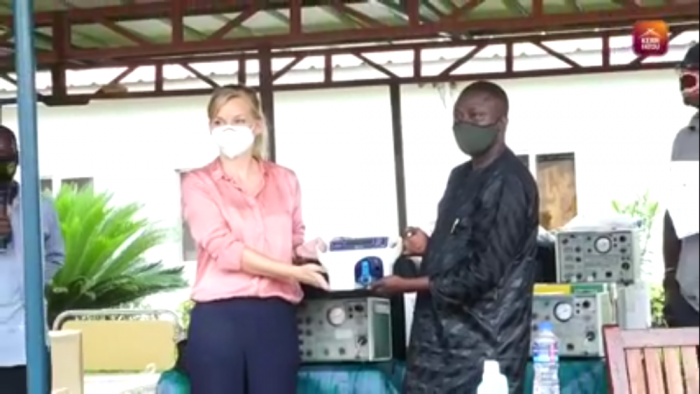 The presentation which was held at the Project Aid The Gambia Office in Manjai Kunda was aimed at equipping the country to strengthen its fight against coronavirus.
Speaking during the presentation, Janine Hoelscher, German Embassy's political attaché in The Gambia, said that their embassy is delighted to support the Gambian people during these difficult times.
She added that due to the liberal bilateral cooperation, the German Embassy gladly supports the very timely project which he said, is one of their micro-projects, adding that the ventilators and the equipment are much needed in the rise of covid-19 cases in The Gambia
"With the picro-project team, the German Embassy supports NGO initiatives that are aimed at improving the basic needs for the poor and most-vulnerable of the population," she said.
For his part, Musa Saine, deputy head of logistics, Ministry of Health, said that covid-19 is a pandemic that is disturbing the whole world especially the developing countries. "But with the likes of good partners like Project Aid that are coming to the aid of The Gambia, then we say a very big thank you," he said.
According to him, this is not the first time Project Aid is coming to the assistance of the country, adding that those are very important materials. According to him, the gesture is very timely and highly needed in the country to fight covid-19.
He finally thanked Project Aid and the German Embassy for the good gesture.
Charles Mbye, chairman of Project Aid The Gambia, said that the donated items are valued at D11 million, while applauding Janine Hoelscher, for facilitating the provision of D400, 000 to purchase extra medical items which he said, will also be given to The Gambia.
"We are in a very serious situation because covid-19 is what sees us and we don't see it but the only prevention is to adhere to the measures given by the Ministry of Health and WHO; such as social distancing, sanitisation, clean environment and putting on facemask," he said.
Read Other Articles In Headlines