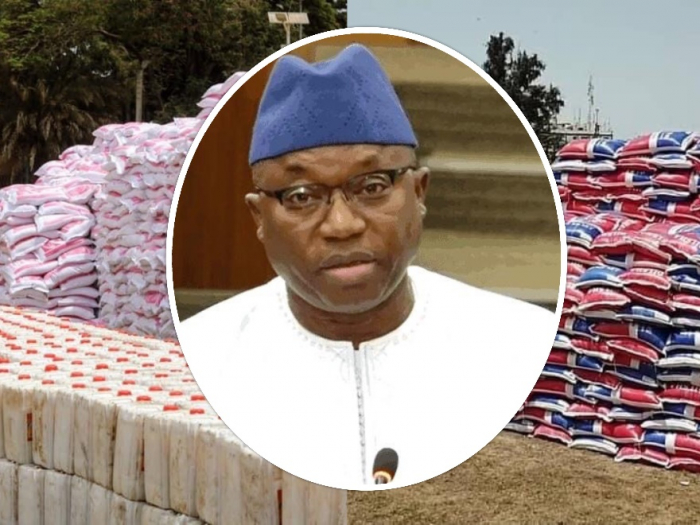 Press release
Quadrangle, Banjul, 29th May 2020 - The Minister of Finance and Economic Affairs, Mambury Njie has assured the public that the financial expenditure and management of the COVID19 Health Fund, as well as the procurement of the emergency food support initiative, will be thoroughly investigated by external auditors.
Minister Njie made the remarks on Wednesday during a press conference at the McCarthy Square, Banjul where the Vice President, who doubles as the Chair of the Cabinet Sub-committee on COVID19, updated the public on the state of the ongoing emergency food distribution exercise across the country.
''In governance everything is procedural. There are people called Auditors and they will investigate the management of the finances and the procurement process,'' the Finance Minister assured, stressing that the government can only act on official findings.
"They [auditors] have started work and we must wait for the outcome of the findings. We cannot rush to a conclusion or act on mere allegations of corruption. We can only act on the findings of the Auditors; therefore, we have to wait on the audit findings.''
The food support is for all people
The Minister also clarified that all the people in the country, including foreign nationals who are found to be needy, are entitled to benefit from the government's emergency food support. That was the instruction of the president, he said.
''As long as you are in the Gambia and in need, you are entitled to the food assistance because President Barrow considers all people in the Gambia, irrespective of nationality, as part of his care and family.''
Speaking earlier, the Vice President Dr. Isatou Touray expressed ''immense thanks and gratitude'' to the Ministry of Finance and other member-ministries of the Cabinet sub-committee on COVID19 for successfully coordinating the response efforts. She also thanked the President of the Republic for initiating the largest humanitarian food assistance in the history of the country.
Read Other Articles In Headlines