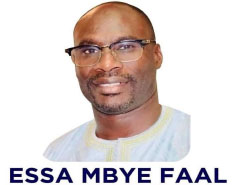 In a brief press update at Bansang, Mr. Faal spoke, this time not as a politician but a legal expert by giving his legal thoughts over such matters.
"Well, the state authorities better be careful. Let them not mess it up because people are watching. I mean, I am advising that they do not meddle with the investigations."
"The authorities should try not to interfere with the process, and we do hope that due process would take place; that there would be would be proper and diligent investigations and that justice would be done," Mr. Faal said.
"But that said, this is a very important case. It has led to scarcity of petrol and petroleum products, which also makes it very difficult for our campaigns to work effectively," he said.
"But the important thing here is that this has to be addressed. I did hear that certain personalities have been mentioned, who are very close to the corridors of power," he hinted.
"Yes. Certainly, there is corruption in the government. There is a lot of corruption in the country. Otherwise, we would not have been listed as the second to last country to do business. The biggest reason, the biggest contributor, to that status is the wanton corruption. The unbridled corruption that is in the system," he unraveled.
"So, we have to wait and see how things work out. Certainly, they may want to drag this on because of the fact that we are now in a political environment, heavily charged political environment."
He opined that the government may want to push this case aside because of the inconveniences it creates for the incumbent and want to deal with it after the elections.
"So, they may just want to push this aside because of the inconveniences it creates for the incumbent and may want to deal with it after the elections, but everybody is watching. If the government is treating this properly, people are watching and if the government is not treating it properly people are watching and should be ready, really, to punish the government for not doing justice when it was necessary, which is now,"
However, he stated that detaining the suspects for more than 72 hours would be an obvious violation of their rights, because the Constitution of the Gambia mandates detention for no more than 72 hours without being taken before a court of law.
"At this stage in Gambia, we should not be talking about violations of basic rights. Really, our democracy, our respect for human rights, should be so strong that we should not be talking about violations."
Read Other Articles In Headlines