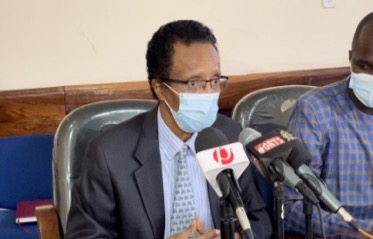 Dr. Desta Tiruneh was speaking on Friday at the Central Medical Store, Kotu, while presenting medical supplies and equipment worth over two hundred and seventeen thousand dollars (US$ 217,000) to help strengthen the country's health care system.
The items, which include essential medical supplies were donated by a number of countries including, China, India and United Arab Emirates.
This surge in the rate of the pandemic in some countries, he added, is very concerning for The Gambia as the country's vaccination coverage rate still stands at only 14.5% of the eligible population having been fully vaccinated.
"This poses a great risk to the Gambian public, particularly to the more high risk population groups such as the elderly, people with chronic health problems and front line health workers, who are the most vulnerable to the virus."
Dr Tiruneh observed that since the onset of the Covid-19 pandemic, the past few years have been a difficult journey for people in The Gambia and around the globe.
However, he indicated that the pandemic has also underscored the importance of a strong and agile healthcare system that is well-equipped to handle interventions that go far beyond traditional curative health care.
Dr Tiruneh noted that since the pandemic swept across the globe, WHO has been working in tandem with governments, UN system, private sector and multilateral and bilateral partners to support the development and implementation of a robust pandemic response strategy and guidelines.
"And in these past pressing times, we were grateful for the partnership and collaboration the WHO received not only from our esteemed colleagues at the various Ministries, but also from our in-country and bilateral partners."
WHO rep equally encouraged partners and the community to get involved in their broader efforts to promote a healthier Gambia.
Read Other Articles In Headlines