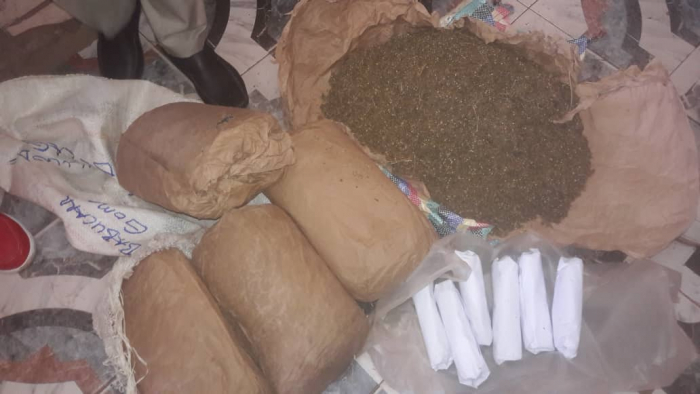 Le journal The Point a été informé de sources crédibles que des officiers de l'Agence de Lutte Contre la Drogue de la Gambie ont arrêté trois Gambiens en possession de 13.000 grammes de cannabis à divers endroits de la banlieue de Banjul.
Les suspects sont présentement en détention par des agents des stupéfiants en attendant la suite des investigations au moment où nous mettons sous presse.
Ousman Saidybah, le porte-parole de l'Agence Anti-Drogue contacté pour ses observations, a confirmé ce développement au journal The Point.
Selon Saidibah, le Responsable des Relations Publiques: « Le Lundi 16 Août 2021 à 12H10, Musa Keita, résident de Kololi, 44 ans et de nationalité Gambienne, a été arrêté en possession de 13 boulettes de cannabis d'un poids total de 12kg 700 grammes par des officiers de l'Agence de Lutte Contre la Drogue de Gambie stationnés à Manjai. »
Il a ajouté: « Le Vendredi 27 Août 2021 aux alentours de 7H30, Babucarr Gomez, résident de Latrikunda, 39 ans et de nationalité Gambienne a été arrêté en possession de quatre boulettes et six paquets de cannabis d'un poids total de 6 kg 600 grammes par des officiers de l'Agence de Lutte Contre la Drogue stationnés à Serrekunda. »
En même temps, le Samedi 28 Août 2021 aux alentours de 8H00, a déclaré Saidybah: « Un citoyen Gambien nommé Ebrima résidant à Kololi, 61 ans, a été arrêté en possession de 2 boulettes de cannabis d'un poids total de 9 kg 200 grammes par des officiers de l'Agence de Lutte Contre la Drogue stationnés à Manjai. »
Read Other Articles In French