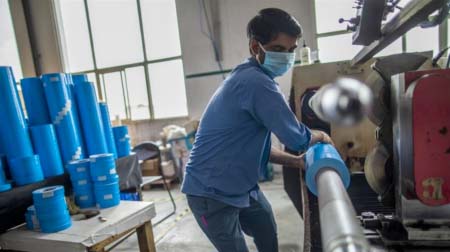 New Delhi, India: The coronavirus pandemic has forced Ashutosh Jatia to make a decision he had been putting off for years: whether to replace workers at his factory in the Indian capital making electrical insulators with machines.
He fears a future in which a prolonged pandemic leads to a shortage of labour and higher running costs due to the need for more sanitisation, he tells Al Jazeera.
Cheap labour, which had so far given his business "an edge" by helping to keep costs down, "now seems to have turned into a liability due to the same labour being prone to viral diseases," says Jatia. His solution: reduce the use of manual labour.
The virus is forcing many businesses around the world to make uncomfortable choices about their workforce. But mass layoffs in India could end up damaging what was already a deeply flawed labour market. The International Labor Organization estimates that more than 90 percent of jobs are in the so-called informal sector, comprising low-paid work with few if any benefits such as paid leave, healthcare or even formal contracts.
India, once the fastest-growing major economy, was already seeing its slowest pace of economic growth in a decade before the outbreak of the novel coronavirus, which has dealt a further blow to its economy and, in turn, to people's ability to find jobs.
The country imposed a lockdown on March 25, the largest and toughest in the world, which, after an initial period of three weeks, has been extended until May 17.
Only the movement of essential goods and a handful of sectors like agriculture are allowed to operate, except for a partial lifting of restrictions in the least-affected areas.
The moves have had a dramatic impact on jobs, while economists revise down their economic growth estimates as the lockdown continues.
In a report released on April 7, before the extension of the lockdown was announced, Goldman Sachs predicted that India's economy in the current financial year, which ends next March, would grow by 1.6 percent, down from an earlier expectation of 3.3 percent.
That would make it India's worst slowdown since the 1970s, Goldman said.
"The nationwide shutdown, and rising public anxiety about the virus, are likely to lead to a sharp deterioration in economic activity," the report said.
A week later, banking and investment firm Barclays had an even more dire prediction when it cut the country's economic growth rate to flat in the current calendar year which ends in December, down from an earlier expectation of 2.5 percent.
For the current financial year, it now predicts the economy will grow by just 0.8 percent, from its earlier 3.5 percent projection.
Life in the slow lane
"Life will not be the same in the post-COVID-19 world," says Sunil Sinha, principal economist at India Ratings, a unit of United States-based rating agency Fitch.
"Unlike any other recession or episode, getting back to work wasn't so difficult, and you wouldn't fear any threat to your life. It was a question of whether enterprise opened and hired you," Sinha told Al Jazeera.
In the face of the unprecedented viral outbreak, mounting corporate losses, and the lockdown, companies large and small, from Jatia's CJI Porcelain Pvt Ltd all the way up to information technology services giant Tata Consultancy Services (TCS), are rethinking their long-term business and employment strategies.
TCS is planning to significantly reduce the amount of time its employees spend in the office, chief operating officer NG Subramaniam said in comments last month after the release of its latest earnings.
After the initial three-week lockdown period, the company realised that "we don't believe that every employee needs to be present all the time in our offices. I think it is sufficient that they spend 25 percent of their time in our offices," Subramaniam said. More importantly, the company no longer believes that it needs more than 25 percent of its workforce in the office at any given time, he said.
Before the lockdown, Indian IT companies had limited the number of days their employees could work from home. But a shift towards more remote working could have enormous implications, not only for the IT sector, but on many associated industries, and also for real estate and transportation.
"Everyone will be more frugal because no one is sure of the future," Madan Sabnavis, chief economist at CARE Ratings, told Al Jazeera. "When another shock comes in, they want to be prepared."
Manufacturing companies typically use what is known as just-in-time methods - where raw materials and components are delivered immediately before they are required, saving companies storage costs and capital tied up in large amounts of inventory.
That strategy will likely change, says Sabnavis. Many companies globally were stung by dwindling supplies of components as suppliers were forced to shut down to control the spread of the virus.
Another change he expects is an increase in the use of technology to increase efficiency, including by small and medium-sized companies like Jatia's.
"Everyone will have to move towards technology," Sabnavis. "People will try to minimize the use of labour as much as possible."
Ajay Sanghi agrees. Sanghi's Jaipur-based Shri Krsna Group makes electrical transformers. While there is not much he can do to alter the firm's end products or the supply chain that brings in components, he is looking at streamlining many other functions, such as receiving orders, purchasing inventory, accounts and sales reviews, among others.
"All these things use up a lot of manpower," Sanghi told Al Jazeera. "Now that we are working from home, there's more multi-tasking."
That trend will become more pronounced as he reopens his business with 15 people in the office who will have to take care of most tasks, as opposed to the usual staff strength of 150.
"We used to have specialists for everything, and now they'll have to be all-rounders and deal with everything," Sanghi said.
"To survive in the medium and near term, all of us are forced to reduce our overheads."
For some companies, the rapid shift by clients and suppliers towards meeting online rather than physically travelling for appointments has been something of a blessing.
Harish Agarwal, whose Kolkata-based firm Supreme & Co makes products for the transmission and distribution of electricity as well as for the telecom sector, says the fact that more people are working from home is making it easier for him to reach his clients, current and prospective.
"People have learned to engage more effectively over video calls than they did earlier," Agarwal told Al Jazeera.
He also plans to exploit untapped markets - countries that until now have been either too far, too small or difficult to penetrate.
"We are seriously exploring these," he said.
But as companies try to adapt to the challenges of the post-COVID world, many economists fear how those changes will affect employment.
India's decades-high unemployment rate - even before the pandemic - skyrocketed from 7.8 percent in February to nearly 24 percent in the first three weeks of the lockdown, according to the Center for Monitoring Indian Economy.
That further shot up to 26 percent in the week ending April 19 before declining to 21 percent in the following week as the government lifted the lockdown in some of the rural pockets and allowed a limited resumption of work, CMIE managing director Mahesh Vyas told Al Jazeera.
With at least 10 million people joining the workforce every year and having a tough time finding jobs, unemployment has been a major challenge in India, even while the economy was growing at a healthy clip, said Sinha.
But as job seekers hit the economy while growth screeches to a halt, the country is looking at a "grim situation," said Sinha.
So far, apart from a $22.6bn stimulus plan announced in March to provide direct cash transfers and food security measures to the millions affected by the lockdown, the government has not offered any other financial packages or support to individuals or companies. And it is not clear if there is one in the offing.
"What game plan do they have? What game plan have we had all these years?" asked Sinha. "We have just been banking on the economy growing and absorbing some of the job seekers." With that gone, "it's a very difficult situation."
SOURCE: AL JAZEERA NEWS
Read Other Articles In Feature