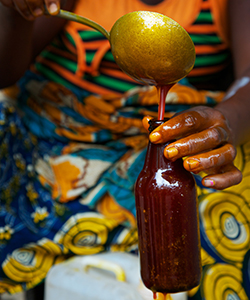 Resurgence in palm oil sales due to the coronavirus pandemic is set to exacerbate price regulation and sales output of one of the country's most-consumed cooking oil.
Distributors and vendors in the Serrekunda Market located in the Kombo lamented over the high cost of palm oil, which they usually import from Guinea Conakry, Mali and Sierra Leone. High cost of sales continues to exceed despite government announcement to open borders.
"The issue at hand is the high rate at which palm oil is sold to us from Guinea Conakry, Mali and Sierra Leone," says Ansu Dukureh, a serial entrepreneur who distributes palm oil at a wholesale cost to vendors at Serrekunda Market.
"The cost of palm oil escalated during the Covid-19 pandemic and despite the government restriction measure to close borders, the rate still remains the same thereby affecting our sales and production," he said in an interview.
In The Gambia women usually bear the brunt of the scaling up of palm oil prices because they are the ones who usually go to markets to cook daily meals.
With a double increment on sales cost according to Dukureh, this means the Gambian palm oil vendors may not see a decrease in sales cost to rebound from the pandemic.
Momodou Keita, another palm oil wholesaler, says aside from price increment and Covid-19 regulations, transportation is part of the problem.
He said since the pandemic started, transportation has been a huge challenge for them. Not only has palm oil cost risen, transportation cost has also increased as drivers have to use various 'backway' routes to get to The Gambia. This contributes to the whole challenge.
"It's been two years now since the pandemic affected our market and transportation has been increased including VAT payments and customs, all of which adds to the rising cost of palm oil," he said.
Mariama Sidibeh, a local palm oil vendor at Serrekunda Market lamented the same, blaming it on lack of price regulation. "Most of the palm oil we sell here are imported from Guinea and since pandemic hits, the sales have really gone down because distributors refused to cut down cost," she said.
"A 20 litre gallon of palm oil used to cost 1, 300 dalasis before the pandemic but now it's sold at 1, 800 dalasis per 20 litre gallon for a wholesale price," she said.
"Few months after the lockdown, prices still remain the same."
Palm oil is vital to a number of sectors and households in The Gambia as its usage is diverse, from cooking oil to even soap making.
In March last year, the government introduced a new price control enforcement called the Commodities Emergency Powers Regulations 2020 for basic and essential commodities but unfortunately for palm oil vendors and consumers, palm oil did not make the list.
Dukureh said enforcing a price control for palm oil sales may seem challenging as different countries such as Gambia, Guinea Conakry, Mali and Sierra Leone are involved in the distribution and different distributors and vendors sell according to the rate they get the palm oil.
The corona virus was declared a global pandemic by the WHO and as at March 25th, 2020 there have been 413,467confirmed cases and 18,433 deaths.
The Gambia registered its first case on March 17th, 2020; an imported case but this increased to 3 confirmed cases (all imported) and1death within the space of one week.
The Minister of Finance and Economic Affairs stated that the economic impact of the COVID-19 outbreak would be a loss of GMD2.5 billion and that the economy will shrink by 3 percentage points to 3.3 percent from a projected growth rate of 6.3 percent in 2020.
This story was produced with support from Journalists for Human Rights (JHR), through its Mobilizing Media in the Fight Against COVID-19 in partnership with Mai-Media.
Read Other Articles In Feature