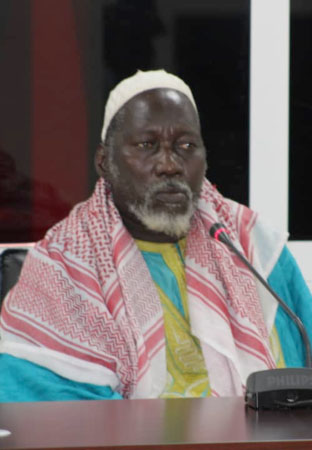 Sheikh Alieu Secka, the alkalo of Kerr Mod Ali yesterday testified before the TRRC in connection with the religious indoctrination that affects his people, saying the followers of Ndigal Islamic sect should be killed or declared persona non grata in the country.

He informed that the village of Kerr Mod Ali was established 100 years before The Gambia gained independence by a man called Mod Ali. He added that Ndigal's father and his (Secka) father shared the same parents.
Secka explained that Ndigal was called Ndigal when he first started giving instructions for people to observe.
"Ndigal formed his own religion because he met Islam praying the five daily prayers, give zikat, fast in the month of Ramadan and go to Makka for Hajj, which he (Ndigal) neglected and threw away."
During Ramadan, he testified that Ndigal's followers do break their fast before sunset; adding that villagers started having differences when Ndigal's followers only followed Haqiqa while they followed Shariah.
"Some of the people abandoned Ndigal when he started to form his own religion."
Before his alkaloship, Secka stated that Alhagie Modou Bamba Secka was the alkalo and was succeeded by his son Assan Secka. He continued that after the passing away of Ndigal, his son Muhammad Basirou Secka took over the alkaloship.
Before a meeting with the government in 2009, the witness continued that at the time, Ndigal was alive, his relatives went to him (Ndigal) and discussed with him as close relatives to convince him to stop what he was practicing.
"In the midst of a problem over the mosque, Sheikh Alieu Secka came from Senegal to witness the meeting between Chief Malick Mbaye and Governor Ganyi Touray. Sheikh Alieu told them that his father built the mosque with his own money and didn't give any other instructions apart from praying. He told them to renovate the mosque so that the neighbours could use it for prayers because they did not pray."
He told the commission how their problem started, highlighting that none of Ndigal's followers was asked to swear allegiance to Sheikh Alieu Secka as indicated by former witness.
He said during the meeting, the police officers were in attendance and the one that replied on behalf of the Ndigal sect, said, Sheikh Alieu came to interrupt their way of worshiping, which they were ready for anything.
Secka added that after, a commotion developed during the meeting, some of the followers of Ndigal were arrested and taken to Njua and Kaur police stations. He added that the incident followed a court's ruling to allow Ndigal's followers to take back their territory. He said he didn't want them to take back their settlements because they are non-Muslims.
He confirmed that he didn't drive them away; instead the government asked them to follow the good practices of Islam which resulted in their exile.
Read Other Articles In Article (Archive)