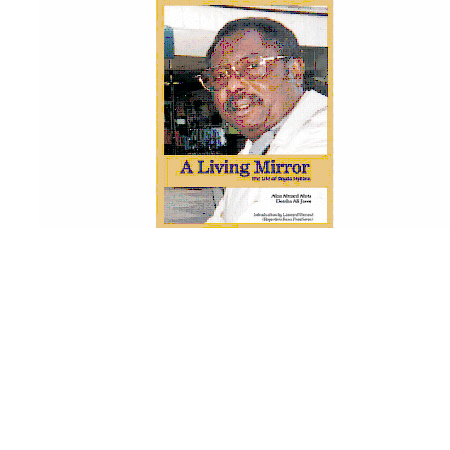 -Aloa Ahmed Alota
A Living Mirror: The Life Of Deyda Hydara was launched on May 3 2008, as part of the activities marking this year's celebration of the World Press Freedom Day in the Gambia. The decision to have the book launched on World Press Freedom Day was widely hailed by media practitioners because Deyda Hydara fought relentlessly for press freedom throughout his journalism career.
In this interview with Baboucarr Senghore, Aloa Ahmed Alota explained why and how he wrote the book with his co-author Demba Ali Jawo.
Excerpts
What motivated you to write this book on Deyda Hydara?
Our writing a book on Deyda Hydara is a commitment to a friend and to a cause we all share. We believe, as Deyda Hydara did, that press freedom is not an abstract concept. By contrast, we insist that press freedom is indispensable to progress in the sense that where the press is free, it is able to hold political and business leaders accountable to the people. The upshot is that there will be an efficient and equitable distribution of resources, which in turn will lead to improved living standards for everyone. The book therefore serves the dual purpose of keeping alive Deyda Hydara's beliefs and ideals and of denying his killers the satisfaction of wiping out his memory altogether. Seen in this way, we agree with the saying that the pen is mightier than the sword.
What difficulties did you face in the course of writing this book?
A lot of people were afraid to talk about Deyda. One of them who had claimed to be his friends told me "I don't know that man you're talking about". With a few others, I had to convince them that I was not going to mention their names in the book. Then they agreed to talk about him.
But were there people who supported you during the writing of the book?
Yes, many of them. Mrs Adelaide Sosseh gave me a lot of support. She not only gave me money, but she also helped work on the drafts. We both worked together on Chapter One and Chapter Three of the book, with her making so many corrections and providing useful details. George Christessen was always there for me. I had unrestricted access to his office and his home throughout. I can't forget Swaebou Conateh without whom the book would not have come out in the shape it is now. He made me rewrite each chapter at least four times. He would sit down with me in office and we would spend at least six hours during each session re-writing sentences, paragraphs and scenes. He would look at a sentence and say, "You have to do this again. It is not sharp enough." He gave me many books and magazines about the press in the Gambia. I owe a lot to him because without him I would not have had any insight into the state of the media in the First Republic. Ousainou Jagne of TIMBOOKTOO also gave me a lot of financial support. Pap Saine was also very helpful. And my friend and brother Lawyer Borry Touray gave me all the hope and assistance I needed. When I had almost given up on the project, he gave me a lifeline. My friend Amadou Dibba was equally very helpful. Hawa Sisay-Sabally is another wonderful person I met in the course of this project. Another person who helped a lot is Dr Lenrie Peters. Others include Babou Sowe and Ousou  Njie Senor. And the Hydara family was, and still is, most supportive.
Why are you donating the proceeds from the book to the Deyda Hydara Trust?
Money is important, but it isn't overriding. Deyda Hydara stood and died for certain values, which I believe should be kept up. I think the money that comes from any memorial about Deyda Hydara should be spent to promote those values. With the Deyda Hydara Trust in place, we will be able to give scholarships to needy but deserving students in secondary schools across country, starting from the 2008/2009 academic year. We will be setting up the Deyda Hydara Scholarships Committee very soon. It is this committee that will formulate the eligibility criteria for the Deyda Hydara Scholarships.
So this project is a thankless job?
No. I have been compensated in ways I could never I have imagined. A college in America has adopted the book as a textbook for its students. A publisher in America has also contacted me for a book deal. I have already sent the draft of the book to the publisher. It's an ambitious book, about 350, 000 words long. A Living Mirror is about 80, 0000 words. This new book A Killer Also Dies should be out in 2011. It isn't a biography; it's purely fictional. There is also this talk about making A Living Mirror into a movie. I couldn't have asked for more.
Are there things about Deyda Hydara that you left unsaid in this book?
One single book cannot tell the entire story of Deyda Hydara. The emphasis of this book is on his professional life as a journalist. I think more books will be written on him in due course.
Did you make any recommendation in the book for the authorities to track down the killers of Deyda Hydara?
I have said it before; I'm a storyteller, not an investigator. And D A Jawo emphasised it at the book launch that we did not set out to investigate the murder of Deyda Hydara. I think there are people who are paid to do that.
How did you manage to get the book published?
At some point in the project, the Open Society Initiative for West Africa (OSIWA) got to know about the book and showed a lot of interest in it. After reviewing it, they decided to take it up as an advocacy tool for press freedom campaign in Africa. They sponsored everything. But there are other organisations that encouraged us in one way or another. They are Reporters Without Borders, the International Federation of Journalists (IFJ) and the Media Foundation for West Africa. I must say Ben Akoh of OSIWA was exceptionally helpful. He took me as a younger brother and did all that he could to get the book published. We are also grateful to Leonard Vincent of Reporters Without Borders.
So what are your future plans?
I plan to spend the rest of my life reading and writing. That is the only way I feel is right.
The book is now on sale at TIMBOOKTOO, Garba Jahumpa Road, Bakau
Read Other Articles In Article (Archive)