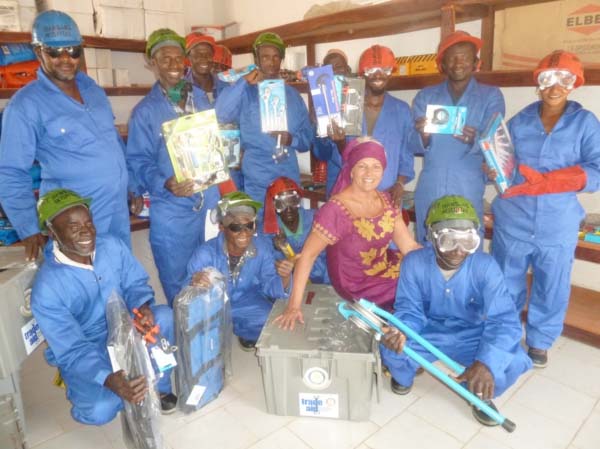 Bansang Hospital Appeal in collaboration with British Plumbing and Electric Corporation (BPEC) recently donated plumbing, electrical and carpentry equipment to Bansang hospital maintenance unit.
The donation came through Ms Anita Smith, founder of Bansang Hospital Appeal charity.
The presentation ceremony, held at the hospital conference hall, was attended by local authorities, staff and board members of the hospital, and other stakeholders.
Bansang Hospital Administrator Baboucarr Saine said the equipment will go a long way in providing better services delivery in the area of maintenance.
He said: "The good thing about Bansang Hospital Appeal (BHA) is that they ask us what our priorities are and it is based on that they provide support to us."
Mr Saine noted that sometime last year, the hospital management prepared and submitted the annual priorities for the hospital and the management.
One of the priorities is to put in place an ultra-modern maintenance and workshop unit, and equip it with all the necessary tools needed to improve service delivery of the hospital.
He said the management of the hospital is concerned with the health and safety of the staff.
"It is because of that we went the extra mile to provide personal protective gears such as overalls, helmets, boots, gloves, face mask, apron among others for the safety of our workers," the hospital administrator said.
The maintenance unit is now up and running and team is fully equipped with high quality tools and equipment for the job concern.
Mr Saine said the reason the management invested so much in the area is to ensure that the health services are improved.
"The health and safety of workers are place high because in this hospital we value and respect our staff and we treat everyone equally and fairly," he said.
He urged the staff of the hospital to use the donated equipment properly for durability.
Burama Badjie, principal nursing officer at Bansang Hospital, said the personal protective gears are important for the safety of the staff.
He assured the donors that the donated materials will still be serving their purpose at the hospital for the next 10 years.
Anita Smith, founder of Bansang Hospital Appeal Charity, said she first visited Bansang in 1992 and it was during that visit she saw the need to support the hospital.
Since then, she has been supporting the hospital by sending 40foot containers loaded with medical items and other equipment as well sponsoring further training of the staff.
Read Other Articles In Article (Archive)