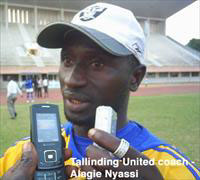 Alagie Nyassi, Head Coach of Tallinding United, has said their primary objective this season is to build a good team capable of playing very good .
He said they want to build young talented players but in the process collect maximum points along the way as well if at all qualification to the first division league comes their way they fight for it.
Nyassi, who was speaking to reporters on Monday 17 March 2014 at the Serrekunda East Mini Stadium, following his side's 2-nil defeat to Serrekunda United in the third week on the (GFF), second division league encounter, stated that there is nothing wrong in his team despite managing a single win in 3 games.
During the commencement of the league, they said they were going to prepare game upon game, adding that it is unfortunate they only managed 3 points in possible 9.
"Today's loss was due to the fact that we were being dominated in midfield," he observed, saying: "Our midfield players were unable to track down the movements of Serrekunda United players."
"Their (Serrekunda United) fullbacks were coming in, joining the attack without being tracked," he went on, saying that was their problem in the game.
Serrekunda United played better in the first half, Nyassi further said but added that, his side matched them during the second period and played better until the error of one of his defenders which resulted into the second goal they conceded.
The Tallinding United gaffer expressed disappointment with his team's performance during the first period of the encounter, saying they did not stick to instructions.
"Serrekunda United were far better than us in the first half but notwithstanding, we addressed that in the dressing room during the break and as a result improved a lot during the second half," he pointed out.
"We have to work on our mistakes today and prepare better for our next game," he also said, adding that he does not think collecting 3 points in possible 9 is not a bad start.
"I am not satisfied with the start – having lost two games and only winning one," he stated further, adding that the league is still young as they have up to 15 more games to play.
"We have to do well to collect some points before the end of the first round," he remarked, adding: "But all in all it's a fair start,"
Modou Njie, head coach of Serrekunda United, described Tallinding United as a very good team that plays very good football.
He added that what made the difference during the game was, his side capitalised on their chances while Tallinding United didn't, saying the game was fairly contested.
The game was a derby and was not easy for his side despite winning, Njie said, adding that they really worked hard for the game to emerge victorious.
"Tallinding United are a very good side with young technical players as well as with an experienced coach," he said of them.
Head coach Njie noted that their main priority this season is to regain back promotion to the first division league, saying they have a good side capable of doing it.
For them to achieve their target, they have to win as many games as possible, he pointed out, adding that they have experienced players and have previously played in the first division league, which is an additional advantage for them.
"Our players are well exposed and mature," he also said, adding that they are going all out for the three points in their next encounter and will fully prepare for it.
Read Other Articles In Article (Archive)