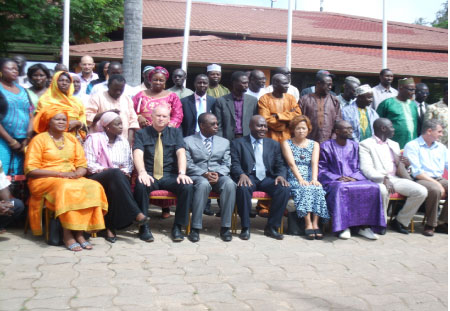 A two-day inception forum for stakeholders on project preparatory grant, "Enhancing Resilience of vulnerable coastal areas and communities to climate change adaptation in The Gambia" is underway at the Kairaba Beach Hotel.
Speaking on the occasion, Chinwe Dike, UNDP country resident coordinator, said the project is meant to reduce The Gambia's vulnerability to sea-level rise and associated impacts of climate change by improving coastal defences and enhancing adaptive capacities of coastal communities.
According to her, in Africa including The Gambia, climate change is already having profound and irreversible impacts on the continent's economic, social and environmental systems.
"Studies both in The Gambia and abroad have shown that climate change will have a significant consequence on coastal regions, especially low-lying coasts with their mangrove ecosystems like we have in The Gambia," she said.
Noting that the UNDP is aware of the fact that The Gambia coastal area is highly productive ecosystem of significance marine biodiversity, which underpins a significant portion of livelihood opportunities of coastal communities, she said that with its low-lying coastal, The Gambia is vulnerable to the effects of climate change such as coastal erosion, which is one of the most serious environmental challenges facing the country.
In officially declaring the forum open, Francis Litty Mboge, Minister of Works and Construction, representing the Minister of Forestry and the Environment, said the government aims to transform the Gambian economy into a green economy as stipulated in its medium-term strategic plan known as the Programme for Accelerated Growth and Environment (PAGE).
In her speech, Forestry and Environment Minister Fatou Gaye said the climate change scenario for the country indicates that the climatic variability currently being experienced is likely to increase and intensify.
"Droughts, floods and storms are likely to increase, both in frequency and intensity," she said.
For his part, Pa Ousman Jarju, director of Water Resources, said articles 4.5 of the United Nations Framework Convention on Climate Change requires parties to give special consideration to least developed countries with regard to funding and transfer of technology.
He said in 2001 in Marrakech, the conference of parties (COP) adopted a special fund called the least developed countries fund (LDCF) to address the special needs of the least developed countries under the climate convention.
He added that in 2010, the UNDP supported government in developing a project concept titled 'Enhancing resilience for vulnerable coastal areas and communities to climate change in The Gambia, amounting to US$8.9 million.
The project, he said, aimed at achieving sustainable development through improved environmental management and based on coastal/marine ecosystem preservation, as outlined in the NAPA document.
Momodou B. Sarr, executive director of NEA, said increasing resilience of the coastal areas and communities to climate change is accorded very high priority in all recent government policies.
Read Other Articles In Article (Archive)