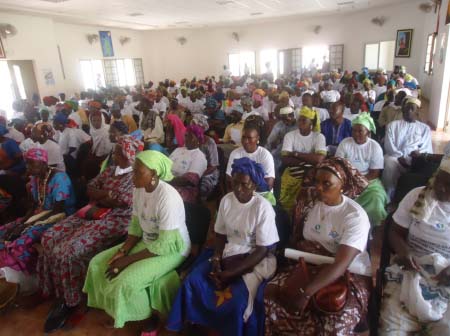 Officials and beneficiary farmers of Gambia and Senegal on Tuesday inaugurated 19 members Steering Committee of Solidarity for Agriculture (SOLIDAGRO) on food security in The Gambia and Senegal.
The committee is mandated to spearhead land rights campaign for women to have access and control over productive land to enhance food production.
The one-day synergy was held in Toubakouta in Senegal. It is a framework for exchange and mutual reinforcement whose role oversees the project in terms of rights to food for rural communities is secured.
The SOLIDAGRO project is funded by Belgium Cooperation and implemented by Agency for the Development of Women and Children (ADWAC), Njawara Agricultural Training Center in North Bank Region and WAAME and AJE in Senegal.
Speaking on the occasion, Dawda Faye Sue Prefet of ToubaKouta, applauded the governments of The Gambia and Senegal for promoting cross-border participation on food security and sustainable development.
He hailed SOLIDAGRO for the foresight in implementing food security, water and sanitation, poultry and literacy in The Gambia and Senegal.
He also used the opportunity to call on the steering committee to be proactive in promoting land rights campaign for women and youth.
The Mayor of Toubakouta, Pap Seydou Janko, called on district authorities to support land rights campaign to enhance women participation in food production.
He said district authorities should operate within the framework of decentralization to ensure land owners complement development aspiration of Senegalese government of attaining self sufficiency.
He challenged the committee to be vigilant in promoting the welfare of women farmers in both countries, saying food security contributes to sustainable development and poverty reduction. 
Dodou Jallow, SOLIDAGRO Regional representative in Dakar for Gambia and Senegal, applauded Gambia partners for their invaluable contribution to the women land rights campaign and rapid implementation of project activities.
He commended Belgian Cooperation for providing fund in supporting partners, organizations in complementing government's efforts towards women empowerment and food security.
He used the moment to launch appeal to organizations to intensify land rights campaign to ensure that all women groups have access and control over productive resources.
Fatou Senghore of Dasilami Sosseh in Senegal, who was elected as president of Project Steering Committee for Gambia and Senegal, thanked beneficiary farmers and partners for the trust and confidence bestowed on them.
She said the initiative would contribute and complement in strengthening bilateral ties between the two countries on food security and poverty reduction.
Mama Manneh Director of Njawara Agricultural Training Centre thanked regional and district authorities in North Bank Region for their support to women land rights campaign, noting that eight women groups have registered land ownership to enhance food production.
He said food availability and affordability are key in accelerating national development and called on the committee to promote networking and information sharing.
Mariama Sonko, vice president of the steering committee, thanked SOLIDAGRO for building their capacity on vegetable production, literacy, sanitation and hygiene.
She said giving women access to land calls for concerted efforts of all stakeholders. She also called on women to unite and promote dialogue at all levels in demanding for land.
The meeting elected four members of the executive steering committee to take charge of the project till 31 December 2016.
The committee includes Fatou Senghore of Dasilami Sosseh as president, and Musa Manneh as secretary general from Senegal, whilst Mariama Sonko is vice president and Awa Sonko treasurer from Gambia.
Read Other Articles In Article (Archive)