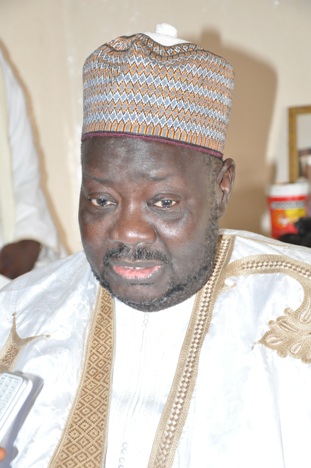 Renowned Senegalese religious leader Sering Mahmoud Nyass, Spokesman of the Family of Bai Nyass in Senegal, is on a visit to The Gambia.
Speaking to the press yesterday about his mission to The Gambia, the venerable religious leader cum politician said he was delegated by the Kalipha General of the Nyassen Sect, Sheikh Amat  Tijan Ibrahim Nyass, who is presently in Kano, Nigeria, to come to The Gambia to pay condolences to the family of the late Alhagie Sulay Jobe, Kalipha General of Bai Nyass, in the Gambia and the entire Talibes on the death of the late Alhagie Sulay Jobe.
He stated that the late Alhagie Sulay Jobe assumed the Kaliphship since 1989, and has dedicated all his life to Islam, noting that his death is not only a loss to The Gambia but the entire Senegambia region.
He described the late Alhagie Sulay Jobe as a faithful person, who was very close to the late Bai Nyass and used to sing for him.
He pointed out that the death of Sir Alieu Sulayman Jack and Sulay Jobe is a great loss to the entire Muslim Umma.
Sering Mahmoud Nyass also disclosed that as from now, Alhagie Muntaha Faye will succeed the late Sulay Jobe as the Kalipha General of Bai Nyass in the Gambia.
He called on Imam Muntaha Faye to work closely with the religious leaders in the country, while also urging all Talibes to rally behind him and give him the maximum support needed.
He also used the opportunity to call on all the Talibes to be law-abiding.
Commenting on relations between Gambia and Senegal, Serign Mahmoud Nyass said the two countries are the same and share a lot in common.
He noted that the two countries have enjoyed a very good relationship, and that The Gambia under the administration of President Yahya Jammeh, has achieved a lot of development.
Also commenting on the recent problem between Seedy Lamin Nyass and the Senegalese Wrestling Promoter Gaston Mbenga, he revealed that now the problem has been resolved.
Read Other Articles In Article (Archive)