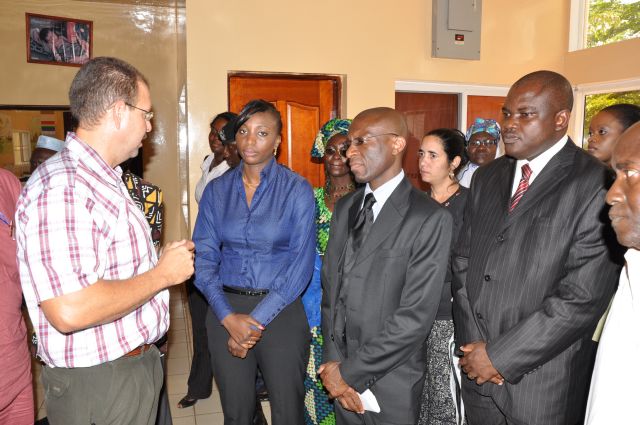 Standard Chartered Bank last week handed over the refurbishment of the RVTH Pediatric Ward which cost the Bank over D456,000.00, following the funding of its initial construction worth D4million by the bank in 2004 reaffirms our commitment to be here for good in The Gambia. 
As the key ward for children's care, the RVTH pediatric ward is of special interest to the Bank and The Gambia as a whole because it continues to make a real difference in the reduction of infant mortality in The Gambia.
In a short handing over ceremony, the Minister of Health and Social Welfare Fatim Badgie, called the furbished Pediatric Ward a breath of fresh air after walking through other parts of the hospital. She commended Standard Chartered Bank for making a positive contribution to His Excellency the President's Vision 2010 Goals. 
Standard Chartered Bank's CEO Humphrey Mukwereza said, "we are committed to charting a new course in corporate social responsibility in The Gambia because we want to be recognized for being a force-for-good; for the progress of this country, for its people and communities, for the greater success of our customers and for our commitment through good and tough times. That is the only way we would have delivered on our brand promise of being here for good".
Mamadi Cham, Director of Health Service informed the gathering that the Pediatric Ward was the ward amongst all the units in RVTH with the highest admission rate.Hence this refurbishment will indeed help reduce the infant mortality rate in the hospital especially at this opportune time that the rains are not too far away. 
Chief Medical Director, Dr Ousman Nyan commended the bank for the long standing partnership it has had with the RVTH and showed great enthusiasm for partnering again with SCB to receive the refurbished and improved treatment and care facility for the Pediatric patients and his teaching hospital as a whole.  He thanked for bank for truly showing that they are here for good in The Gambia.    
It was noted that Standard Chartered Bank's continuous contribution to the Gambia's Health sector includes the original building of Pediatric Ward in 2004 in the tune of D4million; the relocating and refurbishing of the RVTH's Intensive Care Unit worth over D500,000.00; and this recent refurbishment which has cost the bank over D456,000.00 which covered the replacement of all the windows in the ward ensuring that they are all fitted with mosquito nets, repaired and replaced all plumbing works and toilets, repaired all ceiling fans, repainted the entire building inside and out, just to name a few. 
The ceremony was officiated by RVTH PRO Mr Baboucarr Ngum and was attended by all Department Head of the RVTH, members of the Management Team of Standard Chartered Bank, and mothers of Pediatric patients in ward. 
A walk through one of the unit showcased the outstanding newly refurbished ward. 
Read Other Articles In Article (Archive)