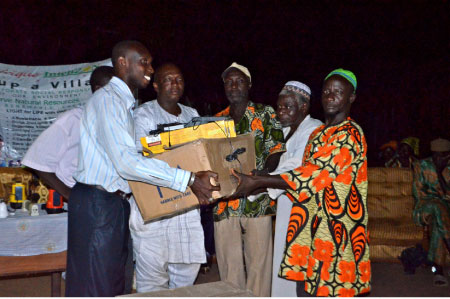 The Indian Rotary Club of Panaji Riviera through ComAfrique-Intelizon Initiative recently supplied 62 lights to Bulanjury village in Foni Binta district, West Coast Region.
The initiative is aimed at improving the quality of life of people living in the rural communities of all Africa, the eradication of the use of candles and kerosene lanterns that cause fire risks and bring health problems.
Safety from fire accidents however is not the only benefit that results from the usage of the distributed solar lights. The financial advantages from not having to buy candles bring great savings to the households.
"Those savings are accompanied by income that is generated as villagers are enabled to work at night and increase their education levels by being able to study at night," said Nfamara Dampha, sales and implementation coordinator.
According to Dampha, to create long-term sustainability, the villagers agree to pay 1 Dalasi per day and per light for the usage of the lights.
"The payment contributes to a ZonLight fund which in the following years grows to take care of the replacement of batteries and lights after expiration. Implemented carefully this concept will provide lighting for the villagers for the rest of their lives," he said.
Also speaking during the handing-over ceremony, Alkalo Pa Kuca Jammeh emphasised his happiness about being able to replace candles and kerosene lamps in his village.
He continued praying that all those villages that do not benefit from ZonLights yet might benefit in the future.
Another speaker, Sutay Jarju, ward councilor, also emphasised that it is very important for the project to be made sustainable. This is where the commitment of every single villager becomes crucial, he said: "A personal oath in the moment of handing-over the lights; that every recipient of a ZonLight will pay a daily contribution of 1 Dalasi per day to make the ZonLight fund grow. Additional lights can be purchased from that fund and its surplus can be used for other community-related activities," he said.
Bakary Colley, the village development chairman, also emphasised the need to take good care of the lights as well as pay the contribution in time.
He said he was happy to announce that the concept of 'Light up a village' is succeeding also in other West African countries. After successfully running a pilot project of it in May 2012 in Guinea Bissau the implementation of it in another set of 143 villages will start under the patronage of Effective Intervention in Guinea-Bissau in February 2013.
The ceremony was attended by many people including Ebrima Jammeh, National Assembly Member for the area, Sarjo Ceesay, District Mobilizer and Moudou Beyai among others.
Read Other Articles In Article (Archive)