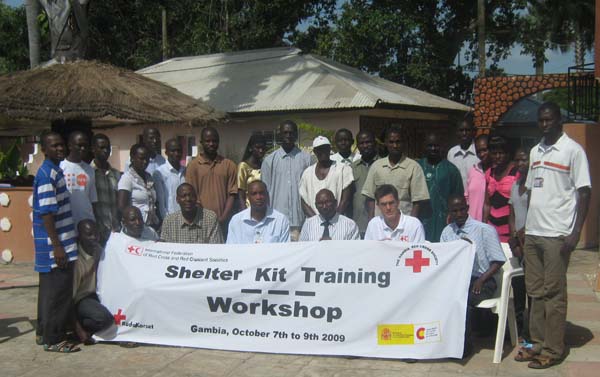 The Gambia Red Cross Society in scaling up its disaster risk reduction as part of the International Red Cross Movement's Strategy for disaster risk reduction is holding a three-day Shelter Kit training, in collaboration with the International Federation of Red Cross and Red Crescent Societies at the Baobab Holiday Resort.
In his opening remarks, Norbert Allale, Disaster Management Response delegate for West and Central Africa Zone Office in Dakar, said The Gambia is hosting the training because it is one of its partners who had requested for more disaster management training programmes.
"We would work together to get a good result and build capacities. We always try to improve on your response," he said.
Essa Khan, the Executive Director of the National Disaster Management Committee said they have put in place a more coordinated disaster management team. He heaped praises on the Gambia Red Cross Society for their response to disaster.
Essa Khan further said that they have set up a framework, which he said, had never existed.
"We have created a Disaster Commission, which is headed by Dr. Isatou Njie Saidy, the Vice-President of the country. We really share with the Red Cross in this area, especially looking at disaster management," he added.
He confirmed that Red Cross had helped to consolidate their report. "You have been recognised for your contribution," he said.
Mamudou Bah, the Secretary-General of the Gambia Red Cross said they are confronted with a series of challenges, which they hope to overcome.
"We have provided D1.2m to help victims country wide through our partners. We hope to have a regional warehouse to handle disasters in time. This training is the first in 2009 and first in The Gambia. We are just coming out of flood and wind. We hope to make flood resistant blocks to raise funds as well,"  Khan concluded.
Read Other Articles In Article (Archive)