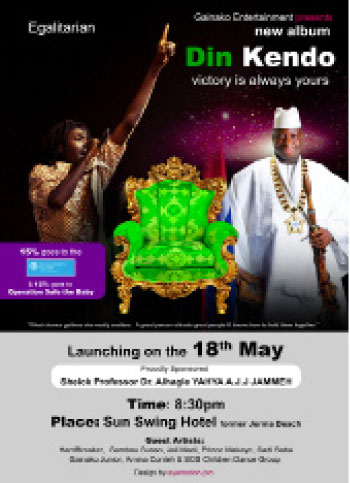 Momodou Lamin Bah, alias Egalitarian, is one of The Gambia's top rap artistes in Africa, who also does Afro hip hop dancehall tracks.
Egalitarian is the founder of Gainako Foundation for children development, an African music ambassador fervently committed to child development, women liberation, youth participation in global development, peace, and social justice.
The Brikama born music star is a member of AURA, Artistes United for Rap in Africa, a pro-child right organization under the auspices of Plan-International in Dakar, Senegal.
Egalitarian's music group has regional, national and global recognition and has participated in many festivals around the world representing The Gambia.
He has performed in the Republic of Senegal in a festival called De Luga Ndarr Stadium, a hip hop award festival organised by Optimist Production, where he won an award for playing the best track out of his compilation entitled Sufferance, as well as in three concerts organised by Plan International.
Egalitarian has also been to Mali, Togo, Niger and Burkina Faso to attend international festivals organised by Wagga Hip Hop and a gala dinner organised by the Prime Minister of Burkina Faso, which was attended by different Ministers from around West Africa.
Egalitarian has promoted his music in Benin, Guinea Conakry and France at concerts organised by Plan-International, where he was invited by the European Union (EU) including all the members of the AURA.
According to him, the performance was held at Strasbury, a classical hall, and witnessed by the EU Secretary General and some other dignitaries from Plan-International around the globe.
The Gambian rap music star has also performed in Switzerland where he was invited by Plan-Suisse International Institute for Child Right and Swiss Foundation.
Read Other Articles In Article (Archive)