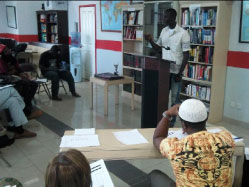 The United States Ambassador's Debate Tournament organized by the University of The Gambia Debate Association (UTGDA), will soon start in earnest, organizers of the event have revealed.
The tournament, which has now become an annual event since the US Embassy sponsored the maiden edition in 2008, is aimed at fostering development of debating culture and skills in Gambian students, engaged students from eight high schools, tertiary institutions and students of the University of the Gambia in a series of knowledge and skills development programmes necessary for debating.
Ahead of the tournament, participating students were equipped with debating skills, formats, use of English and good research techniques.
Two workshops were held; one for UTG students on 8 February 2012 and the other for high school students on 12 February 2012. All took place at the American Corner before the commencement of the championships on 2nd March for both categories.
"Each school sent in a team of four to take part in the Ambassador's debate tournament and these were backed at any particular event by student supporters from their respective schools and outside supporters as well," Jimmy Hendry Nzally, Secretary General of the UTG Debate Association, said yesterday at the American Corner, where participating teams are gearing up for the mega tournament.
According to Jimmy, this is the first time the UTG Debate Association invited institutions from outside the UTG to take part in the tournament. Prior to the Ambassador's Debate Tournament, the UTGDA organised its first debate tournament in 2009, which was limited to only students of UTG.
He told The Point: "The University of The Gambia Debate Association is an organised group of intellectuals who are interested in demonstrating their skills through public speaking, listening, analyzing situations and communicating those imperative ideas to convince their audience."
Last year the interschool's debate at the university was very successful with the Ambassador Debate Tournament won by the School of Education (UTG interschool debate category), whilst SOS Hermann Gmeiner High School won the inter-high school category.
"This year the UTGDA plans to host yet another championship, we hope that it will be as successful as the previous ones," he said. "For the university students, the championships will be in two folds; we will have a paper presentation and a debate."
Topics to be discussed during the tournament include religion is the opium of the people (Karl Marx); The ICC is an instrument of oppression to our African leaders; National investment in tourism needs to be developed; Solar panels should be the chief source of energy for domestic use in The Gambia; Freedom of speech is a crucial component of democracy; and Population is not a problem.
Read Other Articles In Article (Archive)