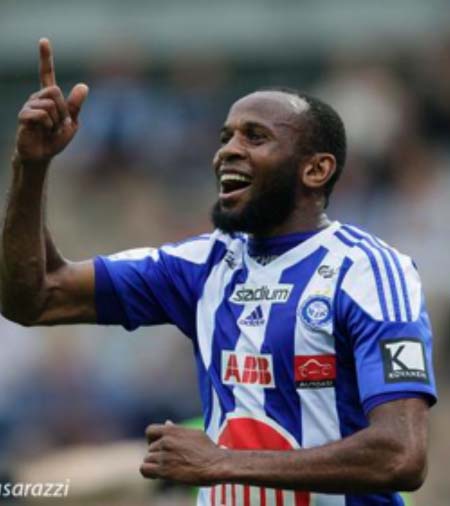 Gambian international Ousman Jallow has refuted claims that he declined to represent his country (The Gambia) in its forthcoming Africa Cup of Nations qualifier against Cameroon on September 6 in Banjul due to family reasons.
The current in-form striker said it is always a dream to represent his country (The Gambia) to any level (both locally and internationally) and he is very honoured to be living that dream now as a proud Gambian, which he will always be.
He said it is unfortunate that he could not represent The Gambia against Cameroon, for which he was privileged to be invited, because he is yet to be 100% physically fit.
He is still undergoing treatment for the career threatened injury that stopped him from playing football for 2 years 3 months, before he joined HJK Helsinki in Finland, he further clarified.
Jallow also pointed out that he had only played 3-month professional football so far and would need more than that amount of time to be completely fit physically.
The former Gambia U-17 star stated that it will be very unfair to the Gambian loving fans and his national teammates if he could not give out his 100% performance physically in the playing field.
"I'm not the sort of player who will just go out there for the sake of collecting caps only," he remarked, saying whenever he takes to the field of play he always try to give out his best for both his clubs and national team.
He further clarified that he is yet to be playing regularly at the moment with his club (HJK HELSINKI) due to the nature of the injury he sustained.
They are strictly following doctors' advice until he recovers fully, he said.
"I will appreciate it a lot if I am excused from my national duties till further notice," he said.
He therefore thanked coach Savoy and the GFF for their invitation to represent his beloved country in the forthcoming encounter and also thanked them and the Gambian public for their faith and trust in him.
He as well as prayed for The Gambia to triumph over Cameroon on September 6.
Read Other Articles In Article (Archive)