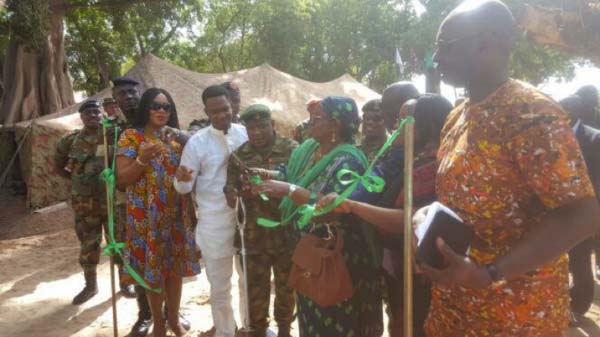 The Commissioner for Political Affairs Peace and Security of the ECOWAS Commission, Mrs Ahmed Halima, on Saturday commissioned the refurbished Officers Mess and Soldiers Club and a newly constructed kitchen at the ECOMIG Nigerian Contingent base at Yundum Barracks.

Speaking at the commissioning ceremony, Commissioner Ahmed Halima commended GTBank for complementing efforts geared towards restoring democracy in The Gambia.
She noted that even though it was not their obligation, businesses however, have a responsibility to contribute to the maintenance of peace and security in the sub-region.
Deputizing for the Chief of Defence Staff of The Gambia, Deputy CDS Major General Yankuba Drammeh spoke of the challenges faced by soldiers on missions in foreign countries.
He noted that it was always the responsibility of contingent commanders to ensure that their soldiers were provided the right environment to execute their duties.
He therefore commended the Nigerian Contingent Commander for his initiative and assured him of the Gambia Army's support in the execution of their function.
The ECOMIG Commander, General Njie, said the facility will have a positive impact on their operation in the country.
He encouraged the Nigerian Contingent Commander to ensure the sustainable maintenance of the facilities so that his men would continue to enjoy a favorable work environment.
The ECOMIG Nigeria Contingent Commander, Lieutenant Colonel L.S. Adamu, said his men were committed to Operation Restore Democracy in The Gambia, adding that the refurbished facilities will help them fulfill that mandate.
He thanked the Government and The Gambia Armed Forces for the support they have given his contingent and for the ongoing renovation of other facilities at his Yundum Barracks base.
The Managing Director of GTBank Bolaji Ayodele, in his remarks on the occasion, said his bank believed that supporting the security services was a way of contributing to the maintenance of peace and tranquility, which was why his management acceded to the Nigerian Commander's request to refurbish the Officers Mess and Soldiers Club and to construct the kitchen.
He expressed hope that the refurbished D430,000 facilities would help to boost the morale of the soldiers in the execution of their mandate.
Mr Ayodele used the occasion to congratulate the Government and people of The Gambia for what he called "a peaceful and successful elections, worthy of emulation by other African countries".
The ECOMIG forces led by Senegal were deployed to The Gambia by the Economic Community of West African States (ECOWAS) on 17 December 2016 to ensure that the incumbent former president Yahya Jammeh conceded to a peaceful solution of the political impasse that gripped the country through preventive diplomacy.
The Standby force is mandated to remain in the service of President Adama Barrow, the Commander in Chief of The Armed Forces of The Gambia, until the necessary conditions for the effective exercise of his powers as President of the Republic of The Gambia are met.
The force is made up of troops from Senegal, Nigeria and Ghana
By Dodou Bojang
(GTBank)
Read Other Articles In Article (Archive)