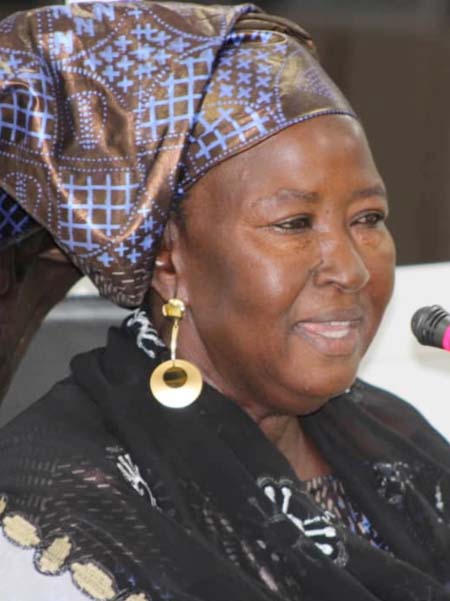 A senior United Democratic Party (UDP) militant and an alleged victim of former President Yahya Jammeh's regime has accused operatives of Mr Jammeh's defunct National Intelligence Agency (NIA) of killing Ebrima Solo Sandeng.

Testifying before the TRRC on Tuesday, Nogoye Njie said the directives to torture Mr Sandeng was given by the NIA former operation commander Sheikh Omar Jeng to Tamba Mansirreh, Haruna Suso and others which resulted to his death.
Mr Sandeng, then UDP youth leader was arrested and detained alongside Nogoye herself and Fatoumatta Jawara following an April 2016 electoral reform protest by members of the United Democratic Party. He later died in custody. UDP alleged that Sandeng died after being tortured by the NIA and that two other party members also died in custody later.
During the April 14 protest, the demonstrators waved banners in Serekunda, with slogans such as, "We need electoral reforms and freedom of speech." Security forces broke up the protest and arrested many of the participants.
On April 16, members of the UDP party gathered again to demand justice for Sandeng's death and the release of other members of their party, where Police fired tear gas at them and arrested at least five executive members of the party, including its leader and Secretary General Ousainou Darboe.
Mrs Njie told the Commission that due to the torture meted out on her by the NIA, her hand was broken and her vision was obstructed.
Explaining how they got to the hands of the NIA, she said on April 14, 2016, she left home to buy some medicines for her mother and met with a demonstration on electoral reform and border closure, which involved Solo Sandeng and others.
She added that she was arrested as she wanted to go to Banjul and taken to the PIU headquarters with the demonstrators."When we reached at the PIU, I was able to recognised Kafu Bayo, Falang Sonko, Lang Marong,Fatoumatta Camara, Fatoumatta Jawara and Solo Sandeng. Young people also were arrested and put in the truck but likely they were coming from school."
Mrs Njie testified that upon reaching at the PIU headquarters, they took them to a very big room without a chair, adding that former mayor of Kanifing Municipal Council; Yankuba Colley came and looked at them and said they were planning a coup."The then interior minister Ousman Sonko later arrived at the PIU and asked for us and Yankuba Colley again told him that we were planning a coup, and the minister replied yes. I replied to them that how can someone without even a broom in her hands plan a coup."
She said as they were handcuffed and taken to the NIA headquarters in Banjul led by the operation commander Sheikh Omar Jeng, where their finger prints were taken and later taken into a room and that was where she met an old woman who was there for two weeks.
"An elderly person who I don't recognised took me to another house where I cannot see the outside. I was later taken into an office and given a chair to sit. I found a lady with a book and two men came and sat beside me. They asked which party I belong to, but I told them that was not the reason why I was there because I was going for my business and they arrested me. Another man came and said here you must talk by force. He asked me to get up from the chair and sit on the ground."
According to her, the elderly man came again and took her away, adding that during their stay at the NIA, they were never given access to lawyers and they were beaten.She was shown a rope that was tied to a wall. "They said if I give them trouble, they will hang me and I will die. I was wounded and I thought that place was Bamba-Dinka. As we were there, one person came and said the former President Yahya Jammeh sent him and said if my Kaffo wants to cross carpet, how much it would cost him but I told him nothing and am not ready for any."
She said that they suffered a lot at NIA, stating that one man called James once took Solo Sandeng and told him to sit in a stagnant water that was all urine but she told them that Solo will not.
Mrs Njie further explained that Modou Ngum, who was among them was seriously bleeding to the extent that he had to suck his own blood to avoid losing plenty blood."At another time, they came and took Solo and he told me to tell Darboe to take care of his family because they were going to kill him. His face was covered and taken away.We were in the room and we heard him screaming and they later called me. One man wanted to blindfold me but I slapped him. When the man took me, they all shouted and said the onion is here, bring her and let us slice her."
She said she saw Solo nearly naked on the ground and seriously wounded. She said the men started to beat her and insulting her but she was also fighting back, saying as Solo was sitting, someone came and said to Tamba Mansaray that Solo should not sit. She said it was Tamba Mansaray who broke her finger.
She confirmed to the commission that Haruna Suso was the one who poured water on Solo and that was the last time Solo moved; adding that someone later came and confirmed his death to them. "Tamba Masaray knocked me down and called Haruna to help him take Solo into a room. Sheikh Omar Jeng asked them to wrap him in a blanket and when a doctor came and checked, he pronounced him dead. When that happened, I was calm because I didn't want to cry and they will suspect that I may spread the news. They later poured water on me and moved me out of the territory secretly so that I don't know what was happening."
Mrs Njie said they were later taken to a hospital in the NIA premises, where they spent 14 days for massage, while clarifying that they didn't get any other medication because she never allowed them to inject them.
She also indicated that they were taken to Mile 2 and shackled. "We met about 30 young girls and we were taken to remand wing and later to Janjanbureh prison."
She lamented that at Janjanbureh prison, she was sick and later taken to Bansang hospital, where she was given a private room and no visitors were allowed."We were tried at Mansakonko Court but we never responded because our lawyers were not there and we were convicted. We were also arraigned before the High Court in Banjul and we were asked what happened to Solo and myself but I was told I won the case."
Read Other Articles In Article (Archive)