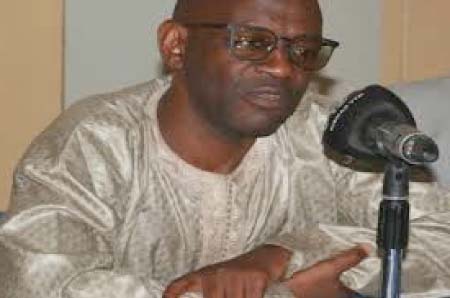 Hassoum Ceesay, Director General of the National Council for Arts and Culture (NCAC) has assured his institution and the Ministry of Tourism and Culture's resolve to continue supporting the promotion of reading and writing culture in The Gambia to address the poor reading and writing culture.

Mr Ceesay, a member of the Writers Association of The Gambia (WAG), and immediate former VP of WAG made this remarks on Saturday, during an international press briefing convened by WAG in collaboration with NCAC, to update the media on their activities.
Mr Ceesay assured WAG of his institution's satisfaction in WAG's work towards promoting Gambian literature, Gambian renewed culture and literacy.
He said the NCAC and the Ministry of Tourism and Culture are very happy with the work of WAG. Adding that, all that WAG is doing falls within the parameters of the National Development Plans, particularly in the area of quality education, through literacy, and vibrant reading culture
"WAG is 10 years now and it is one of the 7 artistic associations in this country. For the last 10 years the WAG did not only produce books, but also engage on other intellectual and Scholarly activities, like symposia, debates, etc. And when we produce books we have book launches. The Association itself has also produce 5 publication in the past 10 years," he said.
Mr Ceesay said the purpose of the press briefing is that their members have been very busy in the international scenes in the last 4 to 5 months. "We are preparing for a major outing, to Dakar, Senegal and hope that some journalists will be invited to join the team. The association members have also been invited to number the international writers' conferences this month and next month," he said
Musa Ceesay - WAG Vice President said WAG has been engaging on number of activities since inception in 2009. "Gambian writers have been writing for a century or more. And this association is reviving the literary trends in the country," he said.
He said WAG held Congress in April 2019, and acknowledged the successes registered by the former board- he described as vibrant team.
"Since we took over, we embarked on a series of activities. The Writers Association of Senegal is hosting Writers Conference in Dakar from 6 to 9 November 2019, and The Gambia is invited as a special guest," he said.
He acknowledged that The Gambia and Senegal shares common culture, and that some Gambian Writers will be awarded in Senegal.
Mr Ceesay said in January 2019 the President of the Association of Authors in Nigeria paid a visit to The Gambia to discuss numbers of issues on how to improve the literary scene, resulting in the invitation of the Assistant Treasurer – Ms Bintou Sanneh who went on a month long Residency in Nigeria in September 2019, and she came back with very good prospects. Ms Sanneh is expected to publish two books, she wrote during her residency in Nigeria.
"Ramatoulie Uthman, WAG Treasurer has also been invited to take part in a month long residency in Freetown Sierra Leone in December, which creates a link between WAG and Sierra Leon," Mr Ceesay said.
He said the Pan African Writers Association is organising Writers Conference in Malabo- Equatorial Guinea in which 2 or 3 WAG Members will take part.
Modou Lamin Sowe – WAG Secretary General for his part reiterated that he will take part in month long residency in Nigeria in the African Writers Development Trust, which is the first ever Writers Residency in Abuja Nigeria, where he is expected to produce new work.
He said WAG since its establishment has engage ministries, NGOs, diplomats, among others to promote the culture of reading and writing, noting that without reading and writing culture, no nation can develop.
Mr Sowe noted that the poor readership in the country needs to be addressed that is why they as the writers association thought that education and awareness raising are fundamental things that they should play to ameliorate the sector.
In doing so they motivated young people participation in the book industry, by organising award programs for young writers.
He also said they plan to organise Banjul residency, where artists from other countries will be invited.
"We are happy that the new Gambia is raising clarion call in writing and we thought we can complement government in key ways. And our first activity will be the Kunta Kinteh International Book Festival, which will be held alongside the International Roots Festival.
He said the World book and copyright day was also celebrated worldwide. And as an association they awarded 22 Gambians, both male and female, as a source of motivation.
He said in April 2019 they held the Dr Lenry Peters Memorial Award in which 22 Gambian Writers were awarded.
"We also paid tribute to the former President –Sir Dawda Kairaba Jawara in form of book exhibition held at the American Corner.
"We also donated 147 Books to schools and school children to motivate young people in reading," he said.
Mr Sowe further said they want to develop a national book policy of The Gambia, to celebrate Gambian writers when they are alive, rather than honouring them when they are gone. Adding: "We want over 80 percent of the books used in schools to be written by Gambians, with more Gambian Teachers to teach our children," he said.
Read Other Articles In Article (Archive)