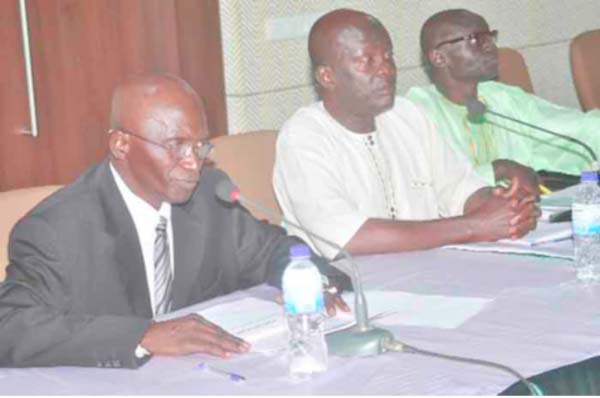 The Director General of the National Agricultural Research Institute (NARI), who doubles as acting Director General of ITC, Ansumana Jarjue, has disclosed that NARI had shifted to a new paradigm dispensation in agricultural research, to focus on delivering on a multi stakeholder's platform on technology generation and partnership strengthening as part of its mandate.

Mr Jarju made this statement during the NARI multi-sectoral field visit to their farm site in Banjulinding.
The three-hour visit was organised by the management of NARI and its board members and was attended by various multi-sectoral stakeholders, including the Office of the President, Ministry of Finance, Ministry of Environment, representative from NYSS, Department of Agriculture, among others.
The visit was meant for knowledge-sharing experiences, and delegates were taken to various trial farms such as the NERICA farm, the Maize farm, the Findi among other farm varieties.
According to the NARI DG, the innovation platform food system approach looks at the commodity value chain by employing inclusive multi-stakeholder's partnership approach to dialogue problems and design solutions that convert knowledge into a socioeconomic outcome.
DG Jarjue further stated that the interaction of the factors - economic, social, political, organizational and institutional - is influencing the development, diffusion, and use of innovation.
He said their context was to bring researchers into partnership with extension agents, farmers, inputs dealers, policymakers, private sector members and end users to catalyze the innovation process.
According to him, "the inclusive arrangement expands the input base" for the design of agricultural researcher development agenda, thereby promoting chances of adoption.
Hence, the approach shortens the lag phase between the development of technologies and their adoption thereby improving chances of development impacts.
Mr Jarjue further indicated that change in paradigm might move from the ineffective conventional approach emphasizing a linear relationship between stakeholders, research-extension farmer model into a knowledge-based multi-stakeholders agricultural system, such as integrated agricultural research for development, as an innovation system.
He said despite the considerable progress made by the new management, "there is still a great deal to be done".
"NARI has generated several technologies with high potentials, but the impacts of the technologies on farmers' productivity, livelihood and quality of life have to be consolidated," he stated.
He said among the key achievements of NARI, is the proposed releasing and adoption of important varieties of major crops including rice, maize, millet and sorghum.
These have proven to be scientifically high yielding, early maturing, tolerance to biotic and biotic stresses pest, disease, salinity, and iron toxicity, he added.
He said NARI, in collaboration with the Africa Rice Research Center, has developed ASI (Rice) thresher to reduce the post-harvest loss and ensure the quality of rice paddy after threshing.
Ten local artisans have been trained to scale out the knowledge gained to young Gambian entrepreneurs for self-development.
DG Jarjue also said that in its efforts to ensure food safety in the country, NARI conducted series of tests on quality assurance for imported and exported agricultural products in the area of aflatoxin and other chemical analyses such as free fatty acid, oil content, moisture content, and soluble and insoluble impurities.
Read Other Articles In Article (Archive)