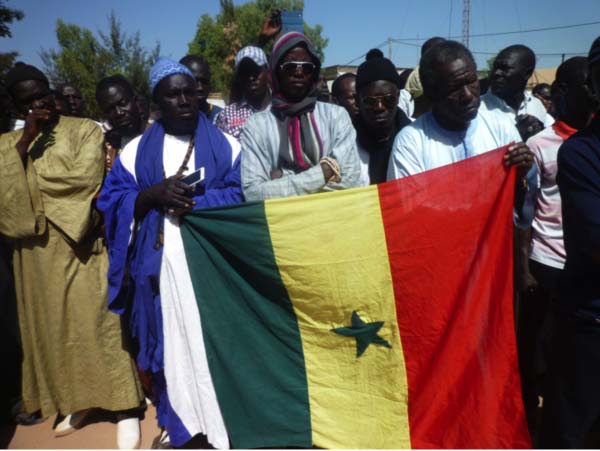 Thousands of Mourides in The Gambia on Sunday marched from Westfield to the KMC grounds shouting: "We don't want any problem in this country; we want peace, and we will continue to be behind President Jammeh."
According to the organizers, it followed an order, ndigal, from their grand marabout in Senegal to hold the march in Banjul to condemn the December 30th terrorist attack in the country.
Pape Demba Diop, the representative of the Khalifa-general in Touba, who was among the organisers, thanked the Mouride community in The Gambia for responding to their call on "this important day to condemn such an attack in this peaceful country, The Gambia."
He added that the Senegalese community present in The Gambia joins President Jammeh to condemn what happened on 30 December.
"We thank Allah for keeping The Gambia peaceful, and we were waiting for instructions from our Khalifa General in Senegal.
"We are Senegalese, but the Mourides are leading the march-past with Pape Demba Diop, who is representing Shering Touba, with other Muslims.
"We came together to call for peace. What happened here, we don't like, and we are praying for peace, both for the President and the entire country," the marchers said.
Mayor Yankuba Colley of KMC and Mayor Abdoulie Bah of Banjul received the marchers, and both thanked the Mourides for organizing the procession, as a public demonstration of support to the entire nation in condemning the December 30th terrorist attack.
The two mayors said without peace nobody can go about his or her business, as peace brings about development in any country.
They added that the peace in The Gambia would be defended by President Jammeh and the entire people resident in The Gambia.
The march ended with recitation of the holy Quran at the KMC mosque by Muslim elders led by the Imam Ratib of Banjul.
Read Other Articles In Article (Archive)