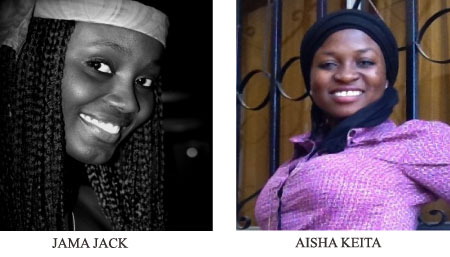 Aisha Keita and Jama Jack from The Gambia and Morocco selected among Africa's Most Outstanding Emerging Women Leaders
Moremi Initiative for Women's Leadership in Africa proudly announces the 2012 MILEAD (Moremi Initiative Leadership and Empowerment Development) Fellows. The 25 selected MILEAD Fellows are some of Africa's most extraordinary young women leaders with the courage and commitment to lead and shape their communities and Africa's future as a whole. The Fellows were chosen through a highly competitive selection process and criteria for their outstanding leadership promise, community service accomplishments, and commitment to the advancement of women in Africa.
Ms. Aisha is a young Gambian at the University of the Gambia in Political Science. Aisha's experience as a girl child growing up in The Gambia and the many obstacles she had to overcome made her build  passion to become a  journalist to fight for the right of the younger generation more especially women, with the vision to create sustainable and conducive environment for young people in The Gambia and Africa as a continent. Currently Head of News and current Affairs Unique FM Radio. She is also working with different organization both national and international level and occupying various positions, she is nominated as Communication and Networking office of Lend A Hand society as well Thing Young Women and Global Unification Gambia, all these are entrusted to her due to her level of understanding and passion she has for young people and women in The Gambia and Africa..
Ms. Jama Jack was selected for her passion, vision and commendable achievements on issues relating to the development of youth and women. Ms. Jack is a 22 year old activist of Gambian origin. She is currently a 2nd year student of Journalism and Communications at the Institut Superieur de l'Information et de la Communication in Rabat, Morocco. She aspires to be one of the greatest journalists Africa has ever produced. Jama started advocacy at the age of 10 and has been involved with various youth projects, which, coupled with her academic success, have helped mould her into a dependable, tolerant and independent-minded young woman. Jama has developed a strong spirit of responsibility and sacrifice by continuously volunteering with non-profit organizations like Lend A Hand Society, Gambians Against Rape and Molestation, Tuta Pack Action Group, Think Young Women etc. She is also the current President of the Gambian Students' Association in Morocco. Jama loves reading and shares her gift of writing on her blog, Linguere.
Both ladies have been awarded partial scholarship to attend the three-week institute in Accra, Ghana from 10th July to 1st August, 2012. An additional sum of $2,750 is required to cover for all their expenses including travel, accommodation, feeding, tuition etc. They therefore call for support from all stakeholders, government departments, private companies and individuals alike to help in making their trip a possibility. All contributions are highly welcome, as they strive to represent their country in the best ways possible.
The 2012 MILEAD Fellows                                                                                                                            
Representing twenty five African countries and the Diaspora, the 2012 Fellows represent a Pan-African diversity with multi-disciplinary academic, professional and social backgrounds. From poverty to women's economic empowerment, environmental justice and political participation, this new generation of African women leaders are proof that Africa can produce the bold, visionary and inspirational leadership needed to lift Africa to its rightful place on the global stage.  The 2012 Fellows are between the ages of 19 and 25, but are already actively leading change on pertinent issues both at the grassroots and international level.  Here are the honoured 2012 Fellows:
Amanda Nthati Chembezi           (Botswana)
Lydia Kaneza                            (Burundi)
Lily H. Foglabenchi                    (Cameroon)
Liliane P.Nzesseu Nono             (Cote D'voire)
Nancy Djembe Walu Majiba       (DRC/Belgium)
Samrawit Yitayew Biyazin           (Ethiopia)
Aisha Keita                               (The Gambia)
Nana Aba Adu–Mensah             (Ghana)
Francisca Korantemaa Darfour   (Ghana)
Anne Waithera Mbatia                (Kenya)
Maletsabisa Molapo                  (Lesotho)
Kiabeh Guzeh                            (Liberia)
Chikondi P. Chabvuta                (Malawi)
Jama Jack                                (Morocco)
Aissa Laouan Wandarama          (Niger)
Olajumoke Adekeye                   (Nigeria)
Adji Fama THIAM                      (Senegal)
Adima Etta Yambasu                 (Sierra Leone)
Mashienyane I. Mphahlele          (South Africa)
Salma M. H. Abdalla                  (Sudan)
Thandwa S Maphalala                (Swaziland)
Gloria Silas Mangi                      (Tanzania)
Grace Atuhaire                          (Uganda)
Dudzai D. Mureyi                       (Zimbabwe)
Afia Agyeman-Duah                    (Diaspora/Canada)
Tayo Adjapon-Yamoah                (Diaspora/USA)
Priscilla Ankrah                           (Diaspora/USA)
Vivian Adhiambo Onano               (Diaspora/Kenya)
From over 1,240 applications from 41 countries, the selected Fellows of 2012 will become part of the growing MILEAD community of young women leaders. We salute all the applicants for their tremendous work and sacrifices, often under extremely difficult circumstances. Even though only 25 candidates could be selected, we truly admire the courage and commitment of all of these leaders. We absolutely look forward to collaborating with all applicants through other platforms and future programs as we strive to create opportunities and attain dignity and justice for women in our communities and across the continent.
The 2012 MILEAD Fellows Institute                                                                                                        
The MILEAD Fellows will converge in Accra, Ghana to kick-start the 2012 MILEAD Leadership Institute with a three-week intensive training program, which will be hosted by the Institute of African Studies, University of Ghana, Legon. The Institute will serve as a platform for Fellows to cross-examine concepts of leadership in a broad African context, cultivate the skills and experiences necessary to occupy and excel in leadership positions, and gain knowledge on cutting-edge issues critical to African women and their communities. During this period, experienced and accomplished women leaders who are committed to supporting and nurturing the next generation of African women leaders will mentor Fellows.
About The MILEAD Fellows Program
The MILEAD Fellows Program is a uniquely designed initiative committed to the long-term leadership development and promotion of Africa's most promising young women leaders. Fellows go through a yearlong training and mentoring program, designed to build skills, strengthen networks, and support women's leadership on critical issues. Over the course of the year, the selected Fellows progress through three phases.  First, identify and prepare Fellows through leadership development, networking, mentoring, and training.  Second, promote the visibility and accomplishments of Fellows through media coverage and networking.  Lastly, support Fellows through career planning, management, and access to opportunities and resources. Fellows will benefit from a lifelong solidarity and support through the MILEAD Network.
About Moremi Initiative
Founded in 2004, The Moremi Initiative for Women's Leadership in Africa strives to engage, inspire, and equip young women and girls to become the next generation of leading politicians, activists, social entrepreneurs, and change agents--leaders who can transform and change institutions that legitimize and perpetuate discrimination against women.
We firmly believe that the full and active participation of women in leadership is a pre-requisite for positive change and development in Africa, and addresses the current problem of leadership imbalances.
Key program partners include, Institute of African Studies- University of Ghana, Women's Initiative for Self Empowerment (WISE), Junior Achievement International, The Institute for Democratic Governance (IDEG), The Global Fund for Women, OSI- International Women's Program, and The Africa Group Consult, GATE to Africa, Women Peace and Security Network Africa (WIPSEN-Africa), Women's Earth Alliance, United Nations Entity for Gender Equality and Empowerment of Women (UN Women) among others.
Please contact yajamaj90@yahoo.com
aisha_keita@yahoo.co.uk
Lend A Hand Society: Muhammed Njie: 7387164
Think young Women" Sait Matty Jaw: 7623726/3850321
Read Other Articles In Article (Archive)