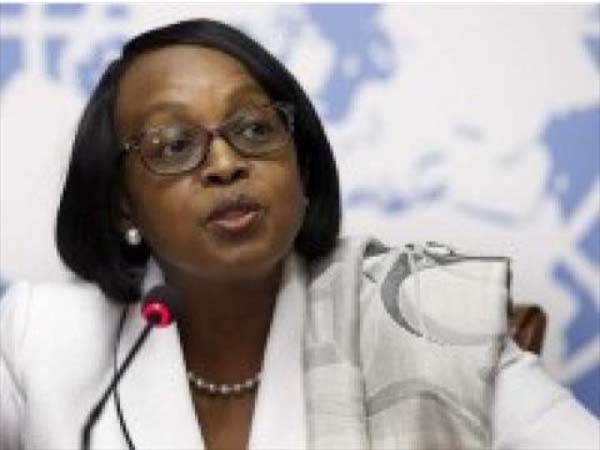 Today, 8 March 2015, we commemorate International Women's Day. The Day presents an opportunity to celebrate the achievements of women while calling for greater equality, encouraging effective action for advancing and recognizing women's rights.
The global theme for this year's celebration "Make It Happen" highlights the urgent need for concrete actions to achieve true gender equality for sustainable socioeconomic development. From the health perspectives, the theme calls for accelerating universal access to sexual andreproductive healthservices, including services to maternal and newborn health as fundamental requirements for the socioeconomic development of countries.
The international community, countries and partners have made commitments for strengthening gender equality and empowering women. Substantial achievements have been made towards these commitments resulting in progress in equitable health and development. However, this progress has been slow and there is an urgent need for renewed commitments and innovative strategies to equitably reach all individuals.
While progress has been made in improving reproductive health information and services, large disparities in access exist within and between countries. With the target date for achieving the Millennium Development Goals (MDGs) coming to a close, there has been slow, uneven and, for some countries in Africa, lack of progress in reduction of maternal and newborn mortality, or improvement in the other indicators that contribute to achieving MDG 5on the reduction of maternal mortality.Of the eight United Nations MDGs, the goal of improving maternal health is the one that remains far from being attained.
Women in our region continue to die while giving life at an average of 396 deathsevery day. This comes with an exponential effect to families and nations. The use of contraception is still low in many parts of Africa. Across our region, only one out of every four women access family planning when they need it. At the same time, one out of every four (25%) women go without contraception when they most need it. This situation is critical among adolescents who have a more limited access to family planning services. Other social cultural practices that impact negatively on maternal health, like female genital mutilation (FGM) and early marriages still persist in many of our countries.
To advance in universal access to sexual and reproductive healthservices, there is a need to reach out to policy makers, technical experts, and the communities. There is a need for action at local, national and global levels to address the deeply intertwined health, economic, social and environmental challenges, with an emphasis on availability and accessibility of required services.
In this context, this year's International Women's Day is being commemorated in theWHO African Region under the theme: "Universal Access to Sexual and Reproductive Health: Make it Happen". I encourage all countries to take this opportunity to review progress and intensify efforts to make universal access to reproductive healthservicesa reality in our Region.
I would like to reaffirm the commitment of the World Health Organization to continue supportingcountries in the African Region, in collaboration with other UN agencies and partners, in their efforts to promote gender equality and to realize universal access to sexual and reproductive healthservices.
I wish all women "A Very Happy Women's Day."
Thank you
Read Other Articles In Article (Archive)