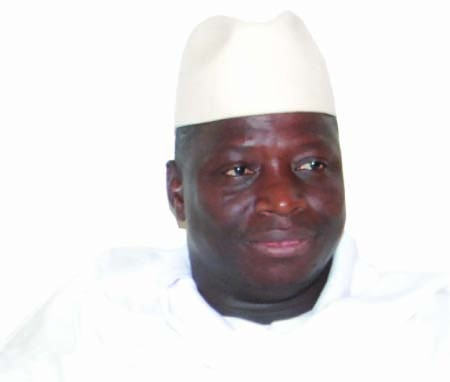 Continuing his campaign for re-election for a fourth term in office, incumbent President Yahya Jammeh has told the people of the Central River Region to maintain a violence-free election during and after the presidential election due next week Thursday.
Jammeh, whose call to the people of the Central River Region followed an earlier one he made to the people of the North Bank Region on Sunday, was speaking at a mass political rally held in Kaur on Monday.
"There is no need for you to quarrel with the opposition, neither to insult them. They too have no right, on the other hand, to come to you and insult you. When they do so, do not fight, but report them to any police close to you," Jammeh told a cheering crowd of APRC supporters.
According to the Gambian leader, he cannot force anybody to love him because, as he put it, "when you enter a polling centre to cast your vote, you are there alone and you alone can decide who to vote for."
However, he noted that whatever one does, God is seeing him or her.
"Everyone of you knows what is good and bad for you, and we will not compromise the peace we have in this country," Jammeh stated.
Noting that the law gives every political party the right to hold meetings without interference from anybody, during the campaign period, Jammeh said his ruling APRC party is a party of peace, and will not tolerate any form of violence, insults or trouble-making.
"Don't put any barrier to other people who may want to join the APRC party. Welcome with open arms, anybody who wants to join the APRC, because my aim is to make The Gambia one family so that we can realize rapid development," Jammeh told his supporters.
"Who is Yahya Jammeh or Governors to take what the Almighty Allah has decided for you," he said, adding further that the presence of the huge crowds is because of the achievements he has registered since taking the mantle of leadership in the country.
"If I had not done anything for this country, large crowds like this would not have been present at this meeting," he further stated.
At another meeting in Jangjangbureh, the Gambian leader commended the people of the island for having being with him and the APRC party for the past 17 years.
"You did not disappoint me, and I did not disappoint you, but you did not also regret and you will never regret why you give your support to me. Those who were opposition supporters before have been saying all sorts of words against me, but today those people are part of the APRC party," Jammeh added.
Governor Ganyie Touray of the Central River Region told Jammeh and entourage that his region is a no-go area for the opposition, noting that though leaders of the main opposition are natives of his region, "they can never penetrate the electorate" in his region.
"The opposition will not get more than one vote in CRR because the elders, youth, constituency chairmen and lady councilors with the support of the APRC regional executive committee, have done their homework," Touray assured Jammeh.
Chief Malick Mbye of Upper Saloum district assured President Jammeh that the electorate in his district are behind him, and nobody else can convince them about the opposition.
"Even the nomination day has shown to the whole world that President Jammeh has won the election. By looking at the number of people who went out during the nomination of President Jammeh, we are now not talking about winning, but about by what percentage we are going to win," Chief Mbye stated.
Other speakers included Yankuba Touray former APRC national mobilizer and Lamin Kaba Bajo, minister of Fisheries, Water Resources and National Assembly Matters, who is also the APRC Campaign Manager.
Read Other Articles In Article (Archive)