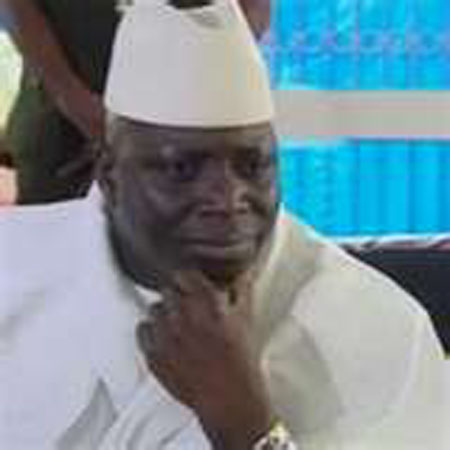 As part of celebrations marking the 14

th

anniversary of the July 22

nd

revolution, President Jammeh on Wednesday launched a new Bio-metric visa system at the Banjul International Airport.
The first of its kind in the country, the new internationally linked facility is an immigration control system of recording movements, capturing correct identities and data on impostors, wanted criminals or persons who may want to flee the country.
The Bio-metric system is a perfect system measuring the physical characteristics of a person with the possibility of using specific features to check and verify someone's stated identity by means of automation.
The system is believed to be capable of filtering any information or person coming to The Gambia, and can ensure the retention of proper records of all people arriving and departing the country.
Speaking at the launching ceremony held at Banjul International Airport, President Jammeh expressed his belief that The Gambia is developing very fast because of the peace and security. According to him, the security of the country would never be compromised. He therefore warned those that may be charged with the responsibility to operate the new machine. "Let me make it very clear that if you tamper with this system, you will pay a very high price. If you want to jeopardise the security of this country just because you want something, you will pay a very high price for that."
He urged the operators of the system to be very honest in their work for the best interest of the country, adding that every Gambian should be proud of the machine.
In conclusion President Jammeh thanked Gibril Jobarteh, a technician and his team who installed the state of the earth security equipment for a job well done.
For his part, Mr. Ousman Sonko, Secretary of State for the Interior, said the Bio-metric is a precursor of what is to come next in what he termed the continuous march towards meeting the aims and aspirations of Vision 2020, the Millennium Development Goals and the Silicon Valley.
He revealed that his department in collaboration with other government stakeholders is in the process of introducing in the very near future Bio-metric national documents including passports, identity cards and other related documentation. "This project has certainly elevated the status of the Gambia Immigration Department. It goes without saying that the security of any nation begins with a strong programme for documenting visitors and citizens alike," Secy. Sonko added.
In another development, President Jammeh on Wednesday officially opened a new garments manufacturing company called the Green Industry at the July 22 Business Park at the Banjul International Airport.
The company processes and produces an array of garments including uniforms, sportswear, toilet rolls and baby diapers.
Read Other Articles In Article (Archive)