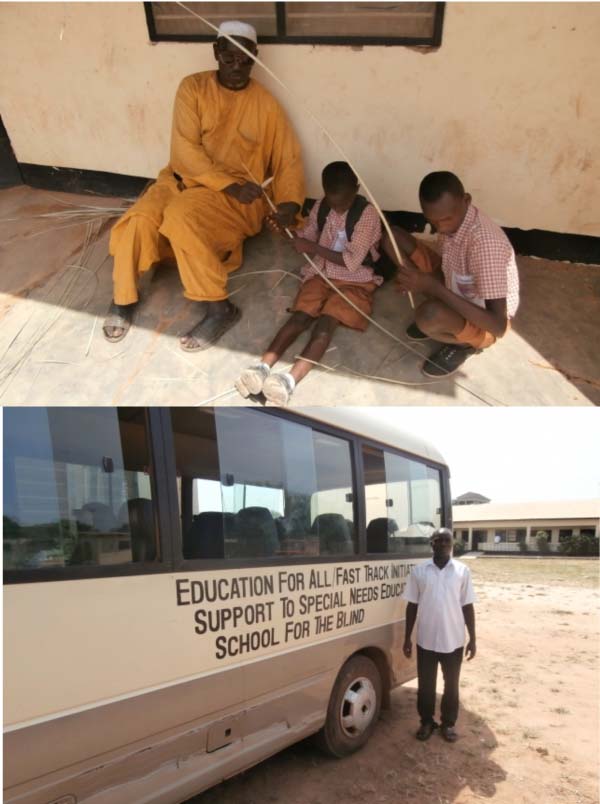 (Thursday 5 February 2015 issue)
Ali Sallah's office tells the story of a man who is fiercely dedicated to his work. The room is full of books and boxes containing alternative learning materials for his students - 42 visually impaired children, many of them born blind.
The children in the school come from many different backgrounds, but all have one thing in common: they all come from poor families.
After 9 years at GOVI (The Gambia Organisation for the Visually Impaired) School, the sign above Ali's office reads Head Master's Office, but he prefers to present himself as Head Teacher.Located just outside the main town of Serrekunda, Gambia's largest town.
The children are being taught English, mathematics, and sport, as well as social skills such as cooking, music, art and basket-weaving.
"This is a kind of social inclusion many of the children do not experience at home," Ali explains.
Teaching methods include the "Braille" writing and reading method, which is used with a typewriter for visually impaired people.
The school only has a few of them, as they are expensive. Schools in The Gambia rely on the efforts of their teachers not just to teach, but also to raise money for building materials, wages and everything else a school needs.
Ali and his fellow teachers have had to overcome many challenges in the school, but one of their greatest improvements in recent years was not to do with education, but rather with a more basic matter: food.
Coming from impoverished backgrounds, the children often came to school hungry, which made it difficult for them to focus on their schoolwork.
The teachers sometimes gave some of their own food to the students, or would even approach Ali to ask for food or money for themselves and the children.
This all changed with the introduction of the School Feeding Programme, which was implemented by the World Food Programme in 2010 with EU financial support.
Through this programme, the school gets staples such as rice, peas, oil and salt delivered for school meals every day. Since the launch of this programme, life at the school has not been the same.
Enrolment has increased, and even the grades of the students have improved; the school came out with the second best average score in The Gambia in 2014.
Ali underlines that a daily meal for the children has much to do with this development. "The students can only deliver results when their basic needs are provided for.
The access to daily school meals makes the children more focused and will eventually give them a better opportunity to influence their own future," he says.
The school has now made its own vegetable garden with the aim of sustainably and cost-effectively producing its own food for the children now and into the future.
By EU Delegation in The Gambia, European Union 29/01/2015
Read Other Articles In Article (Archive)