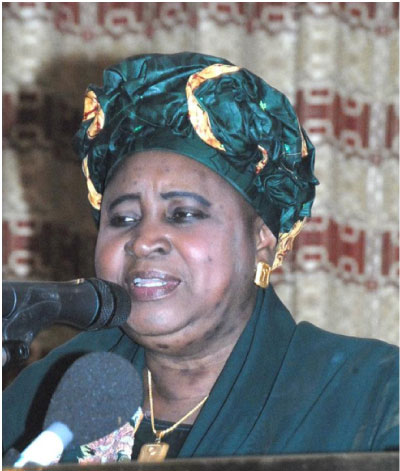 As The Gambia joins the rest of the world to commemorate International Women's Day, the government has renewed its commitment to the fight against domestic violence and sexual offences.
The renewed commitment made by the Vice President and Minister of Women's Affairs, Isatou Njie-Saidy, comes in the wake of government's formulation of two bills that are seeking to impose harsher penalties and severe punishments for domestic violence, and sexual offences like rape.
In her statement to mark the International Women's Day celebrated today, Vice President Njie-Saidy said the reason for introduction of the two bills are to combat domestic violence, provide protection for the victims of domestic violence, and to amend related laws and procedures related to the trial of rape and other sexual offences.
The international theme for this year's Day is "The Gender Agenda: Gaining Momentum" while Gambia's national theme is "The Elimination and Prevention of all forms of Violence against Women's and Girls".
According to VP Njie-Saidy, the local theme is relevant and timely as many studies revealed that gender-based violence is real and a widespread phenomenon in many countries within and among all social groupings and geographical locations as well.
She noted that cognizance to the devastating effects of the violence on the health, social as well economic advancement of women and girls, and its consequences on the national economy at large, a series of international conventions, protocols and agreements had been ratified by The Gambia government.
"The Gambia government has set up a broad-based mechanism for addressing violence against women and girls through domestication of international conventions such as Convention on the Elimination of all Forms of Discrimination Against Women (CEDAW), the protocol of the African Charter on Human and Peoples' Rights on the Right of Women in Africa, as well as the Beijing Platform of Action," she added.
The country, she further stated, has also fulfilled its obligation on the implementation of the CEDAW and other international and regional conventions and treaties such as the African Union Solemn Declaration on Gender Equality, African Women's Decade 2010 – 2020.
Read Other Articles In Article (Archive)