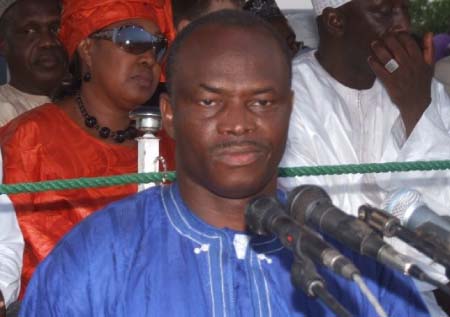 The Governor of West Coast Region, Lamin Sanneh, on Wednesday presided over the opening ceremony of a two-day training on mangrove reforestation at Katacorr Village, Foni Bintang Karanai.
Organised by the department of Forestry and funded by the Gambia Government, the training targeted nine communities in Foni.
Speaking at the opening ceremony, Governor Sanneh said he was delighted with the department of forestry for creating awareness on reforestation of mangrove in the environment.
"It is only capacity building that can help to ensure our forest cover is restored," he said, adding that the importance of the training cannot be overemphasised since "mangrove is of great importance to our environment, with huge benefit".
Governor Sanneh also told the community members to always take such training seriously as "protecting our environment should be everybody's concern".
Governor Sanneh further advised the community of Foni not to allow any one, especially foreigners, to exploit the forest "as most of them are here for their self-interest".
He also advised the community to take ownership of the forest, noting that the department of forestry is not the only department responsible for the safeguard and protection of the country's forest cover.
For his part, Sajor Fatajo, deputizing the director of forestry, commended the communities for their large turnout to "this very important training". He noted that their participation is a clear indication of the interest that they have for the forest.
He advised them to continue their cooperation with the department of forestry, while emphasising the importance of reforestation of mangrove in the environment.
Also speaking at the ceremony, Momodou Lamin Njai, West African Mangrove Initiative (WAMI) focal person at the forestry department, said the intervention of WAMI, in collaboration with the department of forestry during the past three years, has registered remarkable achievement on mangrove restoration, community sensitization and training, bee farming, solar energized salt production, and visits.
According to him, quite a good number of communities have been supportive and effectively responding to the initiative as most of these communities are involved in community forestry programe.
Mr Njai added that for new riverside communities to fully participate and implement this programe, they  need to be sensitised and trained, especially on the areas of conservation, protection, potential site selection, identification of viable mangrove, collection, transportation and healing of harvested mangrove as well as planting and maintenance of the planted stock.
He also said that the intended programme is designed for Katacorr community and its satellite villages in Foni Bintang Karanai District of the West Coast Region.
He noted that at the end of the training, it is hoped that the participants would be equipped with the basic knowledge on the best practices to adopt and made to be more focused and conscious of their environment, especially the coastal zones and the mangrove ecosystem.
The training, he added, would give them better understanding of conserving and protecting the country's forest cover.
Read Other Articles In Article (Archive)