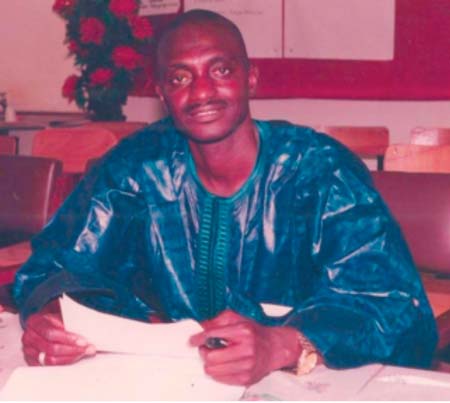 Lamin K. Colley, presidential aspirant for the Gambia National Olympic Committee (GNOC), has highlighted some of his plans ahead of the 5th November 2016 elective congress.

Speaking in an exclusive interview with Pointsports yesterday at his Serrekunda Police Station Office, King Colley, as he is widely known, said he would tender his nomination to run for the presidency today Friday 7 October 2016.
Born on 25 May 1968, King attended Busura Primary School in Kombo Central from 1975 to 1980 and Brikama Senior Secondary school from 1981 to 1985.
He said his reason of wanting to leave the position of chairman of the National Sports Council (NSC) to go in for the position of GNOC president, is that he felt the move is in the right direction for sports development in the country.
He noted that the entire Gambian sports lovers have witnessed "the transformation that has taken place" during his tenure at the National Sports Council as chairman, saying he spent over D300,000 to rehabilitate and uplift the NSC office where every staff responsible for a task had been allocated an office with national associations that had also uplifted themselves to national standards.
He said he believes enforcement should have been done by the NSC in collaboration with the GNOC but that was not the case.
He said he finds it fitting to stand for the GNOC presidency to bring about more development of national associations.
If elected as president of the GNOC, and there is finance for associations, he would ensure no association under his leadership travels by land on international engagement except to Senegal, which shares border with The Gambia.
"Therefore let us look at the interest of the nation and our athletes that are serving and would have to risk their lives to travel by land from The Gambia to Liberia with 'geleh-geleh' or with fourth-class bus from The Gambia to Guinea Conakry," he remarked.
He also said he would complete all uncompleted structures founded by Abou Dandeh Njie if there is funds – "and I believe there are always funds at Olympic House".
King Colley, an action-oriented man, said athletes are serving the purpose of the nation and as such should be considered and well taken care of.
He said that in July he witnessed a handball team from The Gambia travel to Guinea Conakry for four days by land and played their first game the very day they arrived.
They won but the moment the Gambia national anthem was sung everyone was in tears due to the hardship they encountered on their way, he said, adding: "It is sad to see a national team travel by land and being neglected by GNOC whilst just a member of the GNOC is being paid more than D700,000 as per diem and night allowance."
It is for this reasons he said he would rise up to the challenge of assuming the GNOC presidency.
"I have no sentiments against anybody but I see The Gambia as bigger than anyone," he emphasised, calling on all "to respect our athletes and our country".
"You go to mini stadiums in Bulock, Kaur, Farafenni, Basse and other places they are all uncompleted structures," he noted, saying the foundations were laid by the Olympic House during Abou Dandeh Njie's time and "since he left the development of our sports ended at GNOC".
He questioned whether Abou Dandeh Njie is the only one to bring development projects to The Gambia.
He urged all to forget about their personal issues and look at the interest of the country, saying he is aspiring to be president to change the present system at the GNOC.
"I have a 40-foot container full of furniture and other items such as balls, jerseys, tables and chairs and by 16 October 2016 the NSC will embark on tour to distribute these materials for the development of sport," he disclosed, saying: "This is what a patriotic citizen should do and not to expect government to do everything for us."
He said further: "We have our bank of sport at GNOC - if they are not doing anything for sport why are we spearing them there?" he questioned. "Are they the owners of Olympic House?"
Concerning his fellow contenders, he said he has nothing against them. He added that they may all have the same vision but their actions could defer.
He said the moment he tenders his nomination he would have the backing of associations, adding that he would not unveil the strength of his support until after tendering his nomination.
"When I unveil my nomination even those that have pledged allegiance to other camps will retire to me," he said.
Mr Colley was the president of the Brikama Sports Committee from 2001 to 2011. He was also president of the West Coast Regional Sports Committee from 2005 to 2009.
King was team manager of the Gambia U-20 from 2007 to 2009.
He served as second vice president of the Gambia Football Association in 2009. He has been chairman of the National Sports Council since 2013.
He was awarded the best local sports administrator in 2007.
He has also undergone trainings in sports administration on Olympic Solidarity in 2005; leadership in sports coaching in Middlesex University in 2010 as well as introduction to sports rehabilitation in Middlesex University in 2011.
He was enlisted in the Gambia Police Force in 1990. In 2006 he was awarded with outstanding performance, commitment and exemplary conduct of the Policeman of the Year award.
He has also undergone investigation and identifying stolen motor vehicles course in 2008 in Abidjan. He also received training in human rights on law enforcement agencies in 2016.
Read Other Articles In Article (Archive)