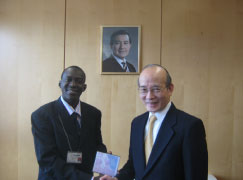 It was exactly on the 22nd day of last month, July 2010 to be precise, when I left the country to join a host of other young journalists from across the world, to participate in a month-long journalism training course.
The training organised by the International Institute for Journalism of InWent was a unique opportunity for most of us.
The trip in totality was good for me, for obvious reasons.
Firstly, it has broadened my scope of understanding of journalism in general, thanks to the well-known experts and senior journalists that I met over there.
However, besides the academic sessions, we also had the opportunity to visit different successful media houses and non-profit organisations, in Hamburg and Berlin, Germany.
The visit to Transparency International Headquarters in Berlin, a global civil society organisation leading the fight against corruption, reminded us of the importance of openness and the dangers posed by too much state secrecy.
These ideals were reinforced by the spokesperson of Wikileaks, an organisation that communicates sensitive materials to the public, designed to protect journalists, whistleblowers and activists.
On July 29th, we visited one of the most important historical sites in Germany, the Neuengamme Concentration Camp Memorial. Built in December 1938, by one hundred inmates transferred from Sachsenhausen concentration camp, we were told that, from the very first weeks of its existence to its liberation, Neuengamme was a deadly hell for the inmates.
In fact, according to Historian Ms. Sandra Wachtel, so many nasty things had happened at this very camp during the Nazi regime, hence human beings were treated at the time as non-humans.
We learnt that despite the nearly non-existent food rations, the inmates had to perform hard labour in all, whether and under constant beating by the SS guards. Very soon, the mortality rate reached an incredible level. Starvation, physical abuse, and total lack of hygiene and medical care killed hundreds of inmates.
During the war, tens of thousands of people were deported as concentration camp prisoners to Neuengamme, from all over occupied Europe by the Nazis.
In most cases, they were incarcerated for having resisted German occupation, having refused to perform forced labor or simply as victims of racial persecution.
Well, from history to current realities in Deutschland, the Federal Republic of Germany after the Second World War concentrated on building its infrastructure, and democratic institutions.
For instance, the country has in place a Freedom of Information Law that allows citizens, including the media, to ask for any kind of information from the public officials, and we were told the system is working well.
In fact, we have witnessed this democratic principle taking course, on Monday August 16th when we visited the Federal Press Conference Centre in Berlin. On this particular day, we met the new German government spokesperson, who was one time a journalist.
The centre is owned by journalists and managed by them independently. At the centre, all government spokespersons from different ministries in Germany, including the official government spokesperson, came regularly to attend the national press conference, where journalists ask them questions regarding how the country is governed by Chancellor Angela Merkel?s administration.
The press conference is normally held at least three times a week.
Another interesting tour was our visit to the ARD-Hauptstandtstudio and discussions with an editor for politics of Germany's public national broadcasting station.
The enthusiasm and courage, coupled with the high-level professionalism, I have found in journalists working for TAZ, BILD, and SPIEGEL ONLINE and BZ newspapers in Germany was alone a source of great inspiration for me, thus my admiration.
Beside my main mission in Deutschland, I also held a series of meetings with potential donors and partners on behalf of the West African Network of Journalists for Peacebuilding (WANJOP) and the Beakanyang Organisation.
Consequently, I am very hopeful that very good projects will be executed by the Beakanyang early next year, while that of WANJOP is expected towards the end of this year.
During my last days in Germany, I had the opportunity to have an audience with the Taiwanese ambassador in Germany, at his office in Berlin. We discussed a wide range of issues, including international politics.
A women's rights organisation also invited me to a partnership dinner in Hamburg, and I am very grateful for the dinner and, above all, what they planned to do for my Wuli community in URR in the not too distant future.
Also still in Hamburg, a friend of mine I met in Taiwan last yaer who is also a member of Hamburg city parliament, as well as a former lecturer in Berlin both invited me to a dinner and drink respectively. Honourable Sören and Holger I say thanks to you all.
To the Gambian community in Germany, especially those I met I say big thank-you for the welcome in particular those from Barrow Kunda.
I can proudly say that the just concluded IIJ 2010 Summer Academy on freedom and responsibility in the media was indeed a course worth attending!
Finally, I can confidently said that if all what I learnt about journalism in Germany during the past one month is put into practice; I will surely call myself a happy journalist. However, the challenges are many and I just hope that God will give me the strength so that I can always do justice to my readers.
Read Other Articles In Article (Archive)