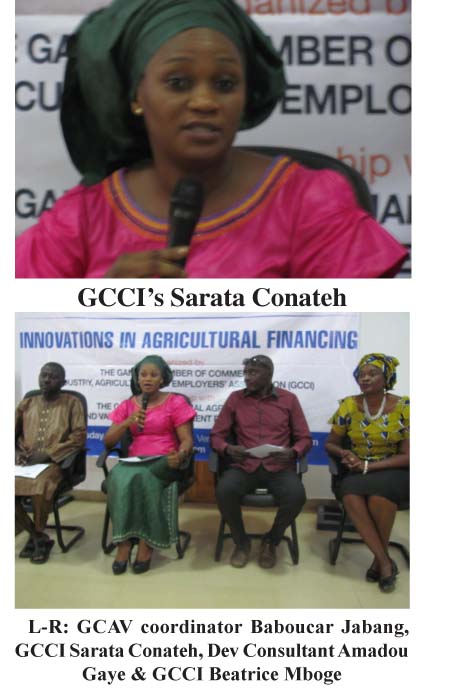 The Gambia Chamber of Commerce, Industry, Agriculture and Employers' Association (GCCI) in partnership with the Gambia Commercial Agricultural Value Chain Management Project (GCAV) on Tuesday held a day's forum to critically look at problems affecting agricultural sector and refinancing possibilities.

Held at the conference room of the GCCI, the forum discussed the topic: Innovations in Agricultural Financing.
In her opening remarks on the occasion, GCCI Business Development Director Sarata Conateh said discussing such a topic that is trying to find solutions to agricultural challenges such as financing is very important, as agriculture plays a great role in the development of The Gambia.
She said most of the micro, small and medium-scale enterprises (MSMEs) in The Gambia deal in agricultural produce and products.
They therefore need proper financial support to let them expand and be more viable players in the economy to alleviate poverty and develop the country's economy.
In his remarks on the occasion, GCAV project coordinator Mbye Jabang said the topic is quite diverse and of paramount importance, as it involves thorough soul searching of how really agriculture is faring in the country.
He said in his thirty years of experience in the agriculture sector, MSMEs have been major players in the country's economy, such as in the livestock value chain.
Mr Jabang said that over the years the focus of support to agriculture had been directed at products and productivity, to the point that today, the country has tonnes of crops and livestock products that are wasting about without market for them.
On the other hand, he said, the country has continued to largely import food to the detriment of home-grown produce or products.
This "anomaly" is because proper processing, packaging and marketing of local products is lacking in the country.
Over-focusing on products and productivity has impacted negatively on the sector he said, adding that rice produce in the country is un-marketed due to many factors such as lack of proper agricultural financing
"We need a new paradigm shift as far as agriculture is concerned," he said.
He also said a lot of resources had been put into agricultural projects to support MSMEs, through World Bank and African Development Bank funding and loans, but much had not been realised over the years.
"We need to examine what are the problems and focus on trying to solve them," he added.
Presentations on policy and regulatory environment for financing sector, experiences on financing agricultural MSMEs by institutions like Reliance Financial Services and FiBank, as well as examples of financing innovations for agricultural MSMEs, were presented by Central Bank of The Gambia's Deputy Director at Microfinance Dept, Dr Seeku A.K. Jaabi, Reliance's Barra Branch Manager Lamin Bojang, FiBank's Deputy Manager for International Banking Sulayman M. Trawally, and Development specialist Amadou Gaye of 3A's Solutions.
The issues were discussed by all stakeholders at the forum including farmers, livestock owners, agribusiness entrepreneurs, bankers, and other financial institution players.
Read Other Articles In Article (Archive)