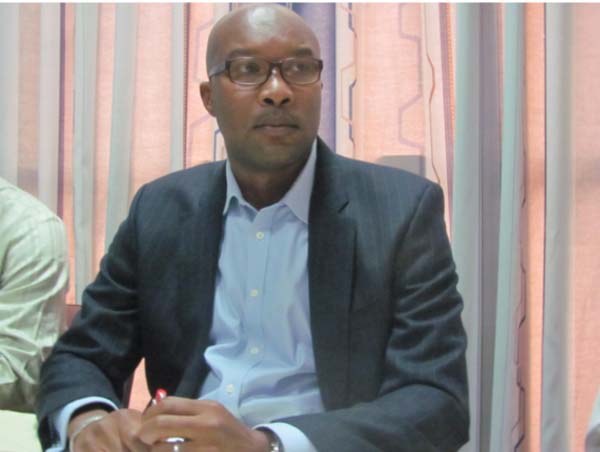 Over the years, the Gambia Chamber of Commerce and Industry (GCCI) has continued to play a pivotal role and enhanced relations between the public and the private sector in The Gambia.
Since its inception in 1967, the GCCI has made great strides in exercising its mandate as a liaison office between the government and the private sector, said GCCI President Muhammed Jagana on Wednesday at a press briefing held at its head office in Bijilo.
"As a chamber, it is our goal to encourage and support businesses, small, medium and large," he said, adding that they would continue to disseminate information and knowledge that would add value, efficiency, and effectiveness to the operations and profits of businesses.
Giving a recap of the past year, Mr Jagana said, in 2015, the chamber organised five business ventures for collaboration with its partners. They also conducted forums to provide a platform for discussion of pertinent issues between the private and public sector players, even at senior government level.
One of its partnership ventures - the GEF/UNIDO 4 project - created more awareness on renewable energy through a business forum organised in conjunction with Trade Fair Gambia International 2015, he said.
"The forum brought together Small and Medium Enterprises (SMEs) from various sectors and discussed the economic and social impacts of RE projects and initiatives in The Gambia, as well as the huge business opportunities for entrepreneurs and for cost savings.
"As part of its transformation processes, GCCI has developed an application which provides news, updates of activities, GCCI membership data base, etc at the fingertips of users," the GCCI president said, calling on businesses to make good use of it via their android or apple mac devices.
In its drive to promote and increase exposure of Gambia businesses locally and internationally, the chamber is working at publishing its 2015/2016 business directory, said the private sector apex body president.
"The business directory will complement the efforts of businesses by providing the required platform to showcase products and services to a wider network of customers."
Mr Jagana added the GCCI has also revived its Employers Association Committee, which was set up in 2012 to address employers' matters and labour relations.
The committee, he said, comprises the Ministry of Trade, Industry, Regional Integration and Employment (MOTIE) and employers with a large payroll including commercial banks, insurance companies and hotels.
"We have just concluded the 9th edition of the trade fair, in response to requests by vendors, on the theme: "Promoting PPP for National Development", which created a platform for businesses to network, as well as promote their products and services thereby providing market access," saidMr Jagana.
Looking at the agricultural sector, he said prior to Vision 2016, GCCI has over the years been actively engaged towards advocacy and promotion of commercial agriculture within the private sector.
During its annual trade fair, GCCI has always encouraged the participation of economic operators in Agric-business through engaging with projects and NGOs to assist smallholder farmers for their participation.
As a result of the growing concern of access to market for agriculture, GCCI in partnership with the Gambia Commercial Agriculture and Value Chain Management Project (GCAV) organised an Agric-business market access and linkage forum in October, which brought together supermarket operators, hotels, restaurants, agro-food processors and support institutions.
Trade Fair 2015/16 an overwhelming success
The 9th edition of Trade Fair Gambia International (TFGI) registered some huge successes albeit some interruptions of the Christmas season festivities, which diverted attention of visitors and stifled regular turnout to the trade fair at the Independence Stadium grounds.
"The trade fair was an overwhelming success," GCCI CEO Alieu Secka said.
He said the chamber constructed 300 stalls, which were all booked by exhibitors and a good number of businesses.
There were no incidences, the organization was tremendous, with proper security and safety measures in place, CEO Secka said, adding:"It was a total success."
There were also lessons to learn though, Mr Secka added, saying that other activities such as weddings during the festive season interrupted maximum turnout to the trade fair.
Chamber president Muhammed Jagana also said that many innovations and businesses, especially SMEs, were given the opportunity to be showcased by the fair.
They, however, expressed strong concern over late registration by exhibitors for the fair, despite all the efforts and publicity carried out by the chamber for everything to be in place in good time for the fair to go on as planned.
Partnerships with agricultural projects like GCAV and NEMA, EIF and other projects this year also contributed massively to producing a highly successful trade fair, as grassroots farmers, producers and suppliers were given the opportunity to showcase their produce, develop networks and form good business relations.
GCCI would continue to render more beneficial services to meet the needs and demands of members of the private sector, as the chamber promotes public private partnership, GCCI officials said.
The Corporate Manager of GCCI, Beatrice Mboge, moderated the press briefing.
Read Other Articles In Article (Archive)