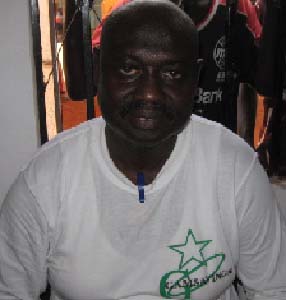 As part of their continuous efforts to bring financial services to the doorsteps of every Gambian, particularly the low-income earners, the Gamstar Financial Services Company (Gamsavings) will today Monday 13th July 2009, open its new agency in Lamin, Kombo North in the Western Region.
This was revealed to ThePoint, by Mr. Momodou Mustapha Jarboe, the General Manager of Gamsavings, in an interview with this reporter on Thursday 9th July 2009, at his office in Banjul.
According to him, they were at one time operating in Lamin, but had to suspend their operations there, due to some technical and manpower constraints.  But he was quick to assure the residents that they have now come to stay.
"We are now opening there with a new direction with right policies and adequate trained manpower available," he revealed.
He further revealed that just like their Farafenni branch, the staff of the agency would comprise residents of Lamin.
This, he said, is a culture for his company, which aims at creating employment for the rural and semi-urban youths within their localities.
"There is a great potential in Lamin and the place is a good location for Gamsavings as most of the people in the settlement are low-income earners", says Mr. Jarboe.
Despite this, he said, there are some banks in the area, which most people find it difficult to save with them, simply because of the high opening balance while with Gamsavings one can start saving with as low as D50.00.
Gamsavings boss further revealed that this time around they will not only give out loans and take deposits like before, but they would go extra mile to provide Western Union money transfer services to the residents.
Mr. Saikou B. Jarju, the Financial and Administrative Manager of Gamsavings said that the opening of the new agency in Lamin is as a result of the great potential that exists in the area.
According to him, now that they have the manpower and other required resources it's the right time to open the agency in Lamin.
"Now that the manpower resources and policies are there, we notice that the place is rapidly growing, thus the need to render our services to them," he stated.
He unveiled that in the shortest possible period of time they would also open branches in Sanyang, Tanji, Bansang and Basse, where they have already built structures and also identified other new locations in the country other than these areas.
He expressed delight at the patronage accorded them by the residents of Lamin, while calling on them to continue working with Gamsavings.
Read Other Articles In Article (Archive)