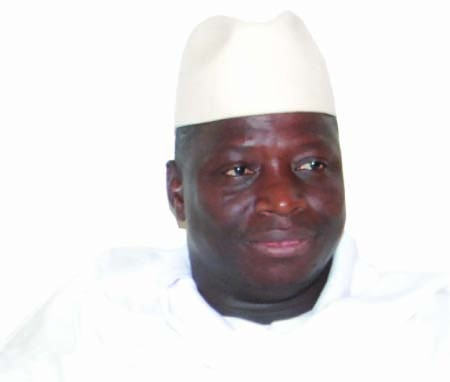 Incumbent President Yahya Jammeh Wednesday told his ruling APRC supporters that what the Gambia needs at the moment is the "politics of construction and not politics of violence", reiterating his earlier call for a violence-free election on 24th November.
Jammeh, 46, is seeking a fourth term of office, and he was speaking Wednesday at a political rally held in Basse in the Upper River Region, as part of his campaign for the presidential election.
According to him, the politics of violence, insults, intimidation or trouble has no place in Gambian society, adding that his supporters should not go in for violence.
The Gambian leader told his cheering supporters that election is not about violence, insults or troublemaking, but it is all about expressing one's constitutional rights as a citizen in a civilized manner.
"Even those people who are not APRC supporters should avoid trouble in all forms, because if anybody causes trouble in this country, you will regret it. People must understand that democracy has nothing to do with violence," Jammeh stated.
He added that "politics of intimidation and harassment will never be accepted in this country.  Even the Holy Quran and Bible disown trouble of all kinds."
Noting that the ruling APRC is a major political part in this country, but its supporters are not trouble makers, Jammeh warned that anyone, whether APRC or opposition supporter who is found causing trouble, will be dealt with accordingly.
"You cannot force people to vote for you. It is left to them to decide where to cast their votes because, come polling day, they will only be alone in the booth with God," Jammeh noted.
Jammeh went further to warn his APRC supporters to desist from formenting trouble while addressing political rallies, vowing that anybody found doing so will have the microphone taken away from him or her.
He commended the people of the Upper River Region for rallying behind him and the APRC party since he came to power, noting that they have proven skeptics wrong.
At another meeting held in Ja-Kunda village, also in the Upper River Region, the Gambian leader called on his supporters in the districts of Wuli West, Wuli East and Sandu to nurture the peace and stability during and after the election results are declared.
"If you see development in any country, know that there is peace and stability in that country because, without it, it will be difficult to achieve rapid development," he said.
"I'm on a tour to thank all Gambians for their support to me over the past seventeen years, because the Almighty Allah will judge me for my deeds," he stated.
Hammeh Jabou Krubally, Chief of Fulladu East district, told the people of the Upper River Region that President Jammeh's tour was based on advise given to him by his mother, Aja Asombi Bojang, to go on a tour of the country and thank Gambians for their loyalty to him and the APRC party, for rallying behind him for the past seventeen years.
Aja Mariama Jaw, lady councilor Basse, said there are two reasons why the people of Basse have to vote for President.
According to her, the availability of GRTS radio station in the town, which was not the case before and the numerous development projects brought about by the Jammeh administration. These are enough reasons why the people of Basse should vote for the APRC, she said.
Alhagie Julaba Kora, Chief of Tumana, Alhagie Kibilly Jaguraga, Chief of Kantora, Aja Isatou Sumareh and Aja Juma Trawally, all promised President Jammeh of a landslide victory in their various constituencies.
Also speaking at the Ja-Kunda meeting, Aja Ndey Jatta, APRC National Women's Mobiliser, called on the electorate in Wuli West, Wuli East and Sandu to give their votes to President Jammeh, "if they want developments projects to be brought to their doorsteps."
Jatto Sillah, Minister of Forestry and the Environment, who is the APRC party liaison officer for the Upper River Region, promised the APRC leadership that come the National Assembly election next year, the seat for Wuli West constituency which is in the hands of the opposition will be taken by the ruling party.
"What we are after is not about presidential votes, but the National Assembly votes because, when it comes to Presidential election, you vote for President Jammeh but for National Assembly election, you vote for the opposition NADD party," he told the electorate, noting that this seat is what they want to take now.
Chief Junn Bah of Sandu, Chief Ebrima Sorry Juwara of Wuli East, Lamin Makalo of Wuli West, Alhagie Balla Barrow, Alkalo Ja-Kunda, among others, all assured President Jammeh of a landslide victory.
Read Other Articles In Article (Archive)