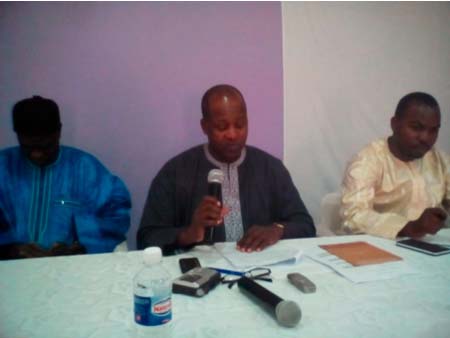 The Ministry of Finance and Economic Affairs, in collaboration with Africa Union Commission (AUC) and various stakeholders, yesterday convened at the Baobab Hotel, a discussion on the AUC's proposed Agenda 2063 for its domestication.
The workshop was held to provide a general overview of Agenda 2063, raise awareness and facilitate the domestication of the agenda, as well as to sensitise stakeholders, such as government agencies, the private sector, the media and civil society organisations, on Agenda 2063.
Participants looked at the overview of the national development plan of Agenda 2063, and a presentation on its first 10-year implementation plan (2013-2023) and how to carve a way forward.
In declaring the meeting open, the deputy permanent secretary, Ministry of Finance and Economic Affairs, Yahya Drammeh, said the African Union Agenda 2063 was formed out of extensive consultations.
He said the agenda was divided into five of ten-year development plans, with the first ten years of the development plan spanning 2013-2023 on the theme: "The Africa we want in 2063".
"It is in our collective interest to join hands and heads to ensure the successful implementation of this agenda for the progress and prosperity of Africa," the Finance DPS said.
Despite Africa's wealth in terms of natural resources, African people have continued to be the poorest in the world, he said, adding that The Gambia should leave no stone unturned in the domestication of the agenda.
He thanked the African Union Commission for the support and encouragement at ensuring a better understanding of Agenda 2063, so it could be mainstreamed and domesticated in subsequent national development plans.
Ahmad Tijan Jallow, a consultant from the African Union, speaking at the forum, stated that Africa shall be a prosperous continent with the means and resources to drive its own development with sustainable and long-term stewardship of its resources.
"Africa will be a continent where poverty is eradicated in one generation and shared prosperity is built through social and economic transformation through manufacturing, value addition and science and technology-driven innovations," he added.
"The African people shall be well educated and highly skilled with science, technology and innovation being the bedrock of its inclusive educational systems."
On financing and the way forward, Mr Jallow said Agenda 2063 would be implemented through a ten-year plan over 50 years, adding that the ten-year plan, which would be a fifty-year transformation framework, would indicate strategies for the national, regional and continental level.
Africa does not only need funding, he observed; it also needs the ability to tackle market failure in the allocation of needed resources.
Therefore, he went on, Agenda 2063 financing strategy would be articulated in the dimension of resource mobilisation, access to finance, and resources to invest.
Read Other Articles In Article (Archive)