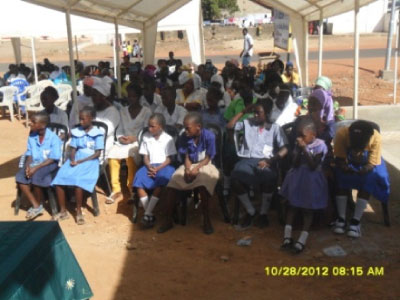 Friends of The Gambia Association (FOTGA) on Sunday held its 5th anniversary celebration, at its office in Kotu.
FOTGA is a charitable organisation based in The Gambia and UK; and supports the development of education, health, among others.
In her welcoming speech, FOTGA's Country Representative, Miss. Sukai Jallow, on behalf of the management of FOTGA extended gratitude to all those who graced the occasion with their presence.
Miss Jallow said the charity is currently sponsoring 195 students from across the country, starting from nursery to university level.
"FOTGA was formed in 1990, by a group of people from the UK who are friends of The Gambia and registered as a charitable organisation in 1995 and started operation as an NGO in The Gambia in 2000," she said.
She said FOTGA is also supporting projects in different sectors like education, health and agriculture.
She outlined the major projects undertaken by FOTGA, like constructing and equipping of a health centre at Kerr Sering, building and furnishing of a nursery school at both Maka Ali Sarr and Brikama Jidda in the West Coast Region.
She further revealed that they have also funded the refurbishment of a class room block at St. Martin's School in Kartong, in the West Coast Region.
"We also constructed staff quarters and waiting shade for patients at Sukuta Health Centre in West Coast Region and introduction of a garden project at Nairo Village," she said.
For his part, Mr. Rob Isdale, Chairman and Project Manager of FOTGA, paid tribute to the late former FOTGA Country Representative, Yaya Camara and late John Jones, a founding member of the charity, both of whom met their untimely demise in 2012/13 academic year.
Mr. Isdale described the late Yaya Camara as a close friend of him, who is so intimated to him like a son. He said at the moment they are looking at one major project at Bakindik in the North Bank Region, where they would build a big Health Centre. He said if completed it would be named after the late Yaya Camara.
Mr. Njundu Darboe, Headmaster of Brikama Jidda Lower Basic School in the West Coast Region whose school is a beneficiary of FOTGA students sponsorship programme, described FOTGA's sponsored students as lucky children.
"Those who are sponsoring you they have done their best; now the task is between two people, the parents and children and it is the responsibility of the child to make sure that he or she features well in the class," he stated.
While stating that it is parents' responsibility to create the enabling environment for the child to be able to go to school, he said that at provinces at certain time of the year parents feel reluctant to send their children to school, simply because there is some work to be done at the farm.
"It is also the responsibility of the parents to make sure that they are interested in what their children do at school," he stated.
"Education is key to anything, if you have a well-educated population you are the best, so let us make sure that as parents we play our parts and let us make the best use of the opportunity that's given to us by FOTGA and it is not the responsibility of FOTGA to go round to schools and bring their sponsors report forms," he concluded.
Read Other Articles In Article (Archive)