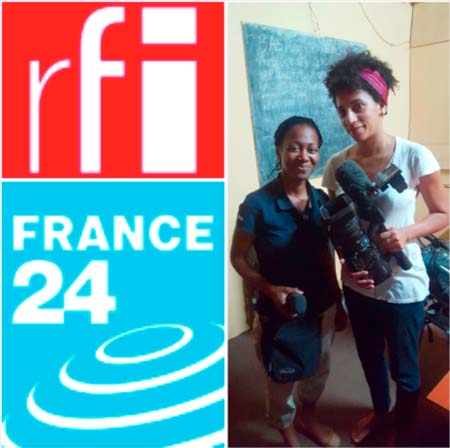 Journalists from the two giant media outlets in France, France24 and Radio France Internationale (RFI), recently paid a courtesy call on The Point newspaper.

Sarah Sakho of France24 television and Bineta Diagne of RFI visited the newspaper as part of a documentary they are working on looking at the challenges of the press in The Gambia and the new found freedom in the country.
The duo are in The Gambia to cover activities relating to the days before, during and after the December 1, 2016 Presidential election in The Gambia for the highly followed French news channels.
"We have been covering the news but now it is not like breaking news anymore, our mission now is to do a longer piece documentary on the challenges of the New Gambia and press freedom," they said.
The reporters for the French media giants said they specifically decided to centre their documentary on The Point newspaper because of its symbolic benchmark and reputation in the media fraternity of The Gambia.
"There are other media houses we could have visited but we chose and decided to focus on The Point because The Point newspaper is symbolic both in The Gambia and internationally," they said.
"The paper is also renowned since the murder of the famous journalist, Deyda Hydara, which is blamed on the former government."
They said when ready, their documentary will be aired both in the English and French services of France24 TV and RFI.
France24 is a twenty-four hour non-stop international news and current affairs television channel based in Paris and broadcasts in French, English and Arabic. According to its statistics, it has a weekly audience of more than 40 million viewers.
Similarly, RFI is a French radio station that broadcasts in Paris and all over the world with 35.6 million listeners. It is one of the most listened to international radio stations in the world, along with BBC World Service, Voice of America and Deutsche Welle.
The Point, founded by Pap Saine and the late Deyda Hydara, is the biggest independent newspaper in The Gambia and so far the only one in the country to have received international awards including the Johann Philipp Palm Award.
Read Other Articles In Article (Archive)