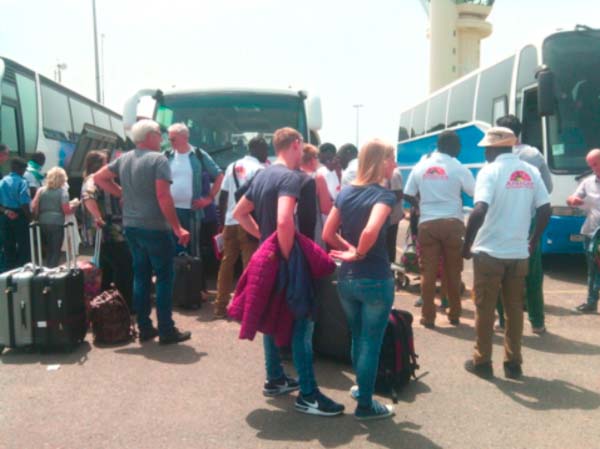 The first tourist flight with 180 holidaymakers from the Netherlands Monday landed at Banjul International Airport.

The tourists on board Corendor Fight were received on arrival at the airport by officials of The Gambia Tourism Board, tourism stakeholders and tour operators.
Speaking to journalists shortly after the landing of the aircraft, Abdoulie Hydara, director-general of the Gambia Tourism Board (GTBoard), said this year they are looking at a total of 30 flights per week.
By the time the season advances towards November, December and January, they are hopeful there will be more flights coming in.
The GTB director-general further informed journalists that there are new products on stream, as they have ensured an environment conducive for tourists. "We need to continue what we are doing," he said.
Also speaking was Adama Njie, director of Marketing at GTBoard, who said this was the first flight by Corendor with 180 passengers on board.
"It is a signal that the season is already here, and I think we should work together to make it happen," he said.
This time around they are optimistic about the season, because more flights are expected to come from the UK market and Belgium.
Mr Njie added that Holland is also "doing very well and are now competing with the UK."
Over the years, the Dutch market might overcome the UK market, he said, adding that this maiden flight is a signal that The Gambia is well-known in the Dutch market.
"We did a lot of marketing and, with joint marketing with our tour operators, we can have a good season. All the necessary marketing tools that should actually push The Gambia to the outside world are actually in place."
The commander of the Tourism Security Unit, Modou Manneh, said that prior to the beginning of the season they always ensure they prepare well, which is the case this year.
"We have zero tolerance for 'bumpsing' and harassment," he said.
Read Other Articles In Article (Archive)