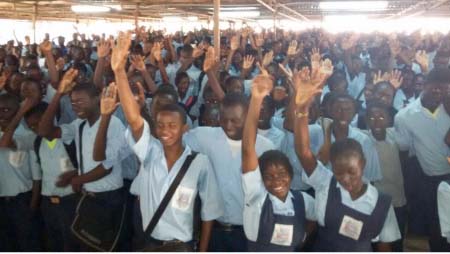 Female genital mutilation (FGM), sometimes called female circumcision or female genital cutting, means piercing, cutting, removing, or sewing all or part of a girl's or women's external genitals for no medical reason.
FGM is flourishing in many African countries and immigrant African communities elsewhere.Millions of girls and women alive today have been subjected to the cutting.
Many women who have undergone FGM experience various forms and degrees of sexual aberrations.These may include fear associated with initial sexual intercourse, pain associated with sexual intercourse, difficulty or inability to have sexual intercourse, and decreased sexual pleasure and fulfillment.
Ramatoulie Tamba, a woman in her 40s and a mother of three four, narrated how the act left her in pain when she was cut at the age of 9.
"The pain and shock I suffered stills lingers in my mind and anytime I think about it, I feel like hating my parents forever," she lamented.
She explained that her experience of FGM is not only physical pain, but health implications also.
"My first time of having a baby was like hell because I was sealed; I was told that I should be teared for the baby to be able to pass through," the mother said."The trauma I went through during the past 20 years is too much."
"My daughters will never undergo circumcision because I do not want to violate their rights and caused them pain that they will never forgive me for," she said, while thanking the Gambian leader, President Yahya Jammeh, for banning FGM in the country.
Safe Hands for Girls (SHFG), one of the leading campaigners against FGM, recently organised a two-week national school outreach programme to sensitise students on the health implications of FGM.
Lisa Camara, special adviser to SHFG, said the outreach will make the students understand how FGM "seriously affects" the health of girls and women in The Gambia.
She said: "The outreach targets junior and senior schools because they are future leaders, in other words, mothers and fathers in the near future.So it is important for them to take the right decision for their children.
"I am expecting that after this outreach, these young people will take it upon themselves to make further research about FGM and later join the fight by talking about it in their communities.
"The outreach will definitely bring a change; it will trigger a lot of discussions within the students and even at home.
"SHFG plans to continue working with schools on FGM related issues which is why there are series of planned activities after the outreach.For example, we plan to organise a national drama competition on FGM and form school peer health groups."
SHFG Programme Officer Maria Saine said through the outreach sensitisation, they are able to create awareness among the children by telling them the short and long term consequences of FGM.
"That way, we urge them to go home and talk to their friends and family members, and we also encourage them to do more research on the subject," she said.
Ms Saine noted that they sensitise the children on the medical aspect and then on the legal side of it.
"We also encouraged them to ask questions and most of the questions they have been asking is how to talk to their parents about it but what we urged them is to do it with discipline," she explained.
Read Other Articles In Article (Archive)