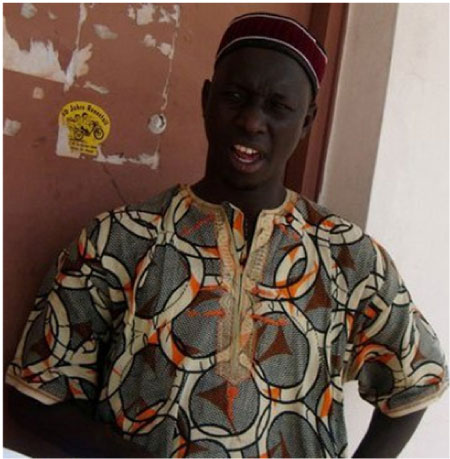 In serialising the achievements and contributions of our first batch of inspirational youth leaders and what they are capable of doing, today we share with you what we know about Fabakary Kalleh.
Born in the village of Salikenni, Central Baddibou in the North Bank Region, Kalleh is a trained human development specialist, skillful in the principles and theories relates to management.
He is very much committed to contribute his quota to the social-economic development of the Gambia as manifested in his undertakings over the years. When first seen, he welcomes you with a smile and encouragement so as to remain focus and tactful.
As a peace advocator and trainer, for Kalleh he firmly believes that there cannot be any meaningful and sustainable growth and development without sustainable peace. And as a result, he dedicated a good time of his life in advocating and preaching for peace.
Ask all those who know him well will tell you Kalleh likes working with the young people, community-based and voluntary organizations.
From 2006 to date, he has served as the executive secretary of Peace Ambassadors The Gambia (PAG) formally Youth Ambassadors of Peace.
He serves the PAG as the chief executive officer of the organization and responsible for the management of the organization. He also serves as the head of the secretariat and responsible for the execution of duties entrusted to the secretariat. He presents an annual operation budget to the National Executive Committee.
As from December 1999- to date, Kallah works with The Gambia Civil Aviation Authority (GCAA) as a terminal floor supervisor.
At GCAA his role includes to monitor and observe airport terminal operation and equipment within the terminal. He also monitor and supervise terminal operational staff, report any malfunctioning within the terminal, serve as liaison officer between the GCAA and concessionaries during non- working hours  and advise the terminal manager on issues relating to terminal management.
Prior to joining the GCAA, he works from April 1997- Dec 1999 with the Gambia Immigration Department as an immigration officer.
There his role was to interprets and enforce various laws and regulations related to the movement of people into, within and out of The Gambia and matters connected therein and therewith.
He is also the chairperson of the Gambia National Youth Council and once served as Banjul Branch Officer for the Gambia Red Cross Society.
Education
In October 2011 he joined The Gambia Technical Training Institute to pursue a diploma in Law.
From October 2001- July 2006 he enrolled at the University of The Gambia where he gained BSc in Management and Marketing.
October 1994- June 1996, he attained his GCE Advance Level in (Economics, Literature in English, Islamic Studies and General Knowledge and GCE Ordinary Level (English Language) at Gambia High School.
From September 1989- June 1994 he obtained his GCE Ordinary Level in (English Language, Literature in English, Islamic Studies, Geography, Economics, General Mathematics, Agricultural Science and Health Science) at Tahir Ahmadiya Muslim High School.
Membership to
organisations
Just like our previous inspirational youth leaders, Kalleh is a member of various national youth organisations and committees.
He was one time the chairperson Information, Education and communication Commission and also once served as a member of the Disaster Preparedness and Relief Commission.
He was once the Youth Area coordinator, Jarra West District in Lower River Region and Chief Youth Area Coordinator Banjul
Since 2000 he has been a member of the National Network of Youths on Population and Development and was also a board member of CPA.
Trainings
March 7 -18 2011 Governance and Accountability, MS-TCDC Tanzania
Nov 27th – 28th 2008 Restoring Family Link, Gambia Red Cross Society/ International Committee of Red Cross, Baobab Holiday Resort, The Gambia
April 21st-25th 2008 Africa Democracy Forum Regional Training of Trainers on Nonviolent Conflict Management, Uganda.
Dec 7th -9th 2006 Basic fire Fighting, The Gambia Fire Brigade, Brikama, the Gambia
Oct 12th – 18th 2006 Disaster Management Training, International Federation of Red Cross and Red Crescent Societies, Sanyang, The Gambia
Sept 4th – 23rd 2005 Peace building training, West Africa Peace Building Institute, Kofi Annan International Peace Keeping Center Ghana.
Presentations
Given lectures to young people and other target groups has always been Kalleh's business.
Please see some of the presentations he has made over the years.
Jan 2012 The role of Youths in Development for Local Government Authorities and Youth Leaders: Commonwealth & Gambia Government seminar on Decentralization.
July 2011 facilitate training on Governance & Accountability and Non-violence, International Youth Summer School on Peace, Youth Ambassadors of Peace ( annual event )
Aug –Dec 2010 Trained Faculty members of Youth Ambassadors of Peace on Conflict management, Peace Education and Life Skills
Dec 2009 Trained First Aid Trainers on, The Gambia Red Cross Society, Bwaim
August 2009 facilitate training on Participatory Vulnerability Assessment (PVA), for Community facilitators Foni, Concern Universal/ Youth Ambassadors of Peace, Kanifing the Gambia (Further Support the process to the end)
May 2008 the importance of management in national development.Gambia Technical Training Institute seminar for ABE Student
March 2007 Facilitate Training on Participatory Vulnerability Assessment (PVA), for Community facilitators, Action Aid The Gambia/Alliance for the promotion of Human Security, Basse, the Gambia (Further Support the process to the end)
Dec 2006-Jan-2007 Voter Education training and sensitization in LRR, URR&CRR
Dec17th -24th 2006 National Youth Policy and the Gambia National Youth council Act. National youth Conference and festival (NACONF) Regional Education Office, Brikama
Dec 9th 2006 Youth Conflict and Emergency, Annual youth Gathering of Banjul Branch GRCS, Gambia Senior Secondary School
Jun 15th -18th 2006 Import ant of peace and Conflict' .St Joseph, family farm Peace Building cultural weaken festival, Bwiam.
May30th 2006 The changes you want to see in this world is in your self"(Ghandi) Symposium, Ambassadors Peer Peace Motivators Gambia College
Dec 21st 2005 The road to peace in Africa. Symposium organized by IOGT Bothrop Branch
3rd -10th June Peace and Culture Capacity building workshop for National Youth Parliamentarians, Kerewan
International Conferences attended
Kalleh just like Abdul Jobe and Ibrahim Ceesay, he attended several international conferences and seminars both across Africa and in Europe.
Meanwhile, Kalleh has vowed to continue making his presence felt in the field of youth work in The Gambia and beyond.
Read Other Articles In Article (Archive)