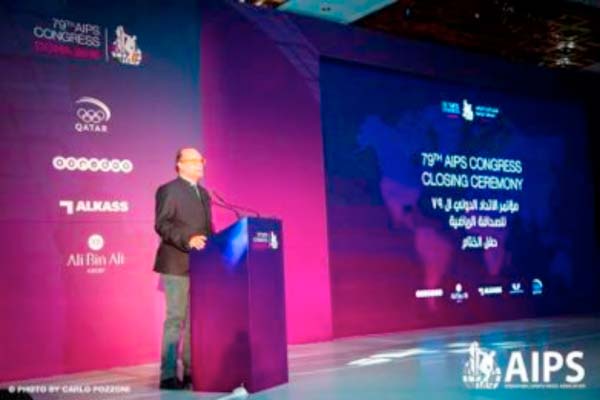 Now, more than ever, sport is under attack from criminal organizations and journalists need to come together to fight for independence.
A declaration on the ethics of sport and condemnation of all forms of corruption in the midst of scandals was the message that rang true in this Persian Gulf Country as the curtain came down on the 79th AIPS Congress.
"Sport has grown culturally, economically and socially, but at the expense of its ethical values," AIPS president Gianni Merlo said.
"Corruption has infected sport with bribery scandals, doping cover-ups, match-fixing, and illegal betting. Sport is under perpetual attack from criminal organizations. However, most participants maintain their faith in the ethical and moral values and fair play that sport transmits and teaches."
Merlo noted that ethics, women and sport and the conditions of journalistic freedom remain crucial to the objectives of the International Sports Press Association especially now with sport having become a multi-billion dollar business with ties to political and private interests.
"Journalists have been and continue to be threatened and persecuted for courageously undertaking their work," Merlo said.
"Increasing restrictions on the right to information, access to sources and unfettered exercise of the profession has become standard."
Consequently, the International Sports Press Association (AIPS), at its 79th world congress in Doha declares that we reject all criminal practices that threaten sport; demand transparency and fair play from all players, officials and participants; promote a cultural revolution founded upon aptitude, talent and fair play; and urge freedom of expression and independence to enhance the purest values of sport and to facilitate the noble profession of the sports journalist."
The umbrella body for sports journalism (AIPS) currently boasts of over 10,000 members from 160 national member associations. The Sports Journalists' Association of The Gambia also an affiliate of AIPS was represented at the Congress by President Musa Sise and Secretary General Alieu Ceesay.
2017 AIPS Congress
Following the successful staging of the 79th AIPS congress in Doha, Qatar, the Korean City of Seoul have been identified as the host for the 80th AIPS Congress in 2017 next year.
AIPS president Gianno Merlo and the Korean Sports Press Association President, Hee Don Jong signed the agreement in Doha. 
Read Other Articles In Article (Archive)