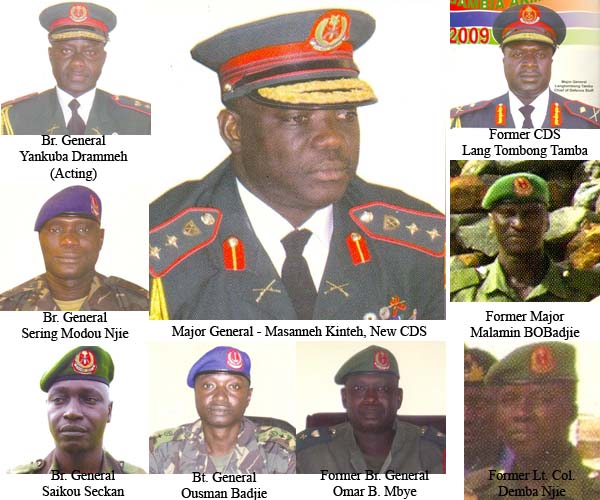 In what could be described as a major shake-up in the military, President Yahya Jammeh has removed the country's top military chief, Lieutenant General Lang Tombong Tamba and dismissed four other top echelons.
According to news monitored over GRTS, those sacked include Brigadier-General Omar Bun Mbye, Lieutenant Col. Demba Njie, Major Malamin Bo Badjie and Captain Lamin Fatty.
Mr. Joseph Jasseh, the Permanent Secretary at the Ministry of Defence, is also said to be given the sack.  
In the same vein, President Jammeh has effected the following appointments in the army: Major-General Masanneh Kinteh as new Chief of Defence Staff (CDS).
Brigadier-General Yankuba Drammeh has been appointed as Deputy CDS and to act in the capacity of the CDS, while Maj. Gen Kinteh, the actual holder of the portfolio continues on his study leave-.
In the same vein, the followings were entrusted to the responsibilities against their names: Brigadier-General Ousman Badjie as Army Commander, Col. Lamin Bojang, Deputy Army Commander, Brigadier-General Saikou  Seckan, Commander Training and Doctrine, and Lieutenant Col. Kawsu Sanyang as Deputy Commander Training and Doctrine.
Col. Sering Modou Njie who has been promoted to the rank of Brigadier- General will be the Commander of the Republican National Guards, while Col. Gibril Bojang will be the Deputy Commander, Republican National Guards, effective Friday 9th October 2009. 
Meanwhile, President Yahya Jammeh has expressed his unhappiness with the state of infrastructure at the Yundum Military Barrack during a surprise visit there.
In recent times, the President has been making surprise visits to installations, starting in Banjul, where he expressed dismay over certain public structures, notably the Police Lines and the Fire Service.
President Jammeh, who could not hide his dissatisfaction, said that things have turned to be worst now, compared to his last visits, as everything ranging from infrastructure to fittings are in deplorable conditions.
The Gambian leader also apologised soldiers, for what he described as cooping with unbearable conditions. 
He pledged to improve the living conditions of all those working for the nation's development, especially soldiers, whom he said, are working all night to ensure that people sleep in peace.
"I will not allow soldiers to sleep on a bed where I will not even allow my son to sit. That is not acceptable," he said.
According to President Jammeh, "the budget for the army is always intact and mostly even supplemented".
President Jammeh continued with his surprise visits to the Fajara Barracks on Saturday, where he declared that more heads will surely roll.
Read Other Articles In Article (Archive)