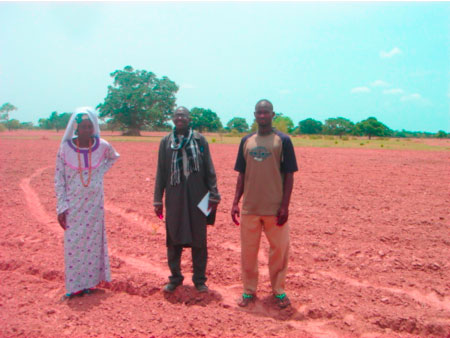 Beakanyang Kafo, a community-based organization in the Upper River Region, under the auspices of its Sutukonding chapter in Wuli West, at the weekend embarked on a sowing exercise on its 10-hectare farmland.
Officials of the organization visited the farm on a Sunday when members were busy sowing part of the farm with beans and expressed their satisfaction with the level of work done.
Receiving the Beakanyang officials, Manneh Kijera, chairperson of Beakanyang Sutukonding Chapter, said they were happy to have their parent body officials on the ground.
She disclosed that they are cultivating four hectares with rice whilst the other six hectares are cultivated with beans and sorrel (Wonjo).
She thanked Beakanyang Kafo for the support and encouragement being rendered to them while describing the organization's secretary general Nfamara Jawneh as an inspiration to local communities, particularly women and youth.
"We are also inspired by the Gambian leader President Yahya Jammeh, who has called on Gambians to grow what we eat and eat what we grow," she said.
Mrs Kijera further appealed for more support from their parent body, the Ministry of Agriculture and other development partners.
"We need more fertilizer and tractors for the work as soon as possible," she said.
In his response, Nfamara Jawneh, Beakanyang secretary general, praised the youth and women of Beakanyang Sutukonding chapter for a job well done.
With more of this kind of farms the organization will be able to fund more projects in the region and reduce dependency on donors, he said.
"Definitely I am very much impressed with what I have seen here today and I must therefore encourage our other chapters to emulate the Sutukonding Chapter," he said.
Mr Jawneh promised members of Beakanyang Sutukonding Chapter that they will help provide more fertilizer and money for ploughing in the shortest possible time.
The Beakanyang SG urged members of the chapter to remain united and eschew division among them.
He also saluted members such as Tumani Fatty and Musa Keita for their active participation in the farming activities of the organization in Sutukonding.
He used the opportunity to call on livestock owners to control their cattle to stop them from encroaching onto farmlands.
"We know very well that some lazy cattle herders and their so-called backers will not stop their bad behaviours of destroying farms in this part of the country but my message to them is that they must spare Beakanyang farms only if they want peace; if not they should be preparing for an unending war with me and my team through the due process of the law," he warned.
Beakanyang Kafo's agriculture field coordinator Sainey Camara said they are working to expand the organization's agricultural activities to various communities including Barrow Kunda and Medina Koto, where land has already been provided for the purpose.
He thanked Beakanyang for the visit and also hailed the Sutukonding chapter members for their hard work.
Read Other Articles In Article (Archive)