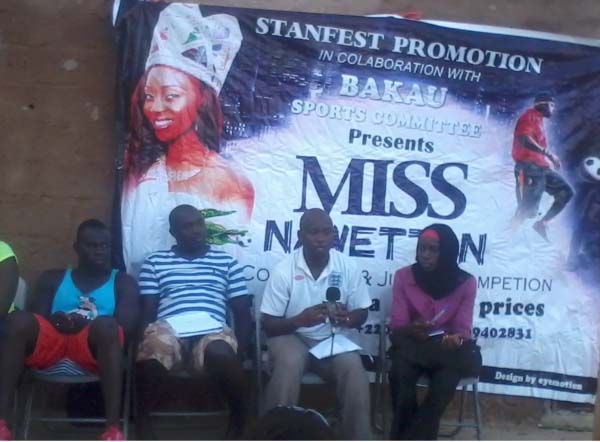 Stanfest Promotion in collaboration with the Bakau Sports Committee will on Friday 14th November 2014 present Miss Nawetan 2014 at the Independence Stadium Friendship Hotel.
Speaking at a press conference held at the Bakau Mini Stadium on Wednesday, Lamin Marong, CEO Stanfest Promotion, said Bakau Sports Committee lacks sponsorship and for this reason they deemed it necessary to have a product that will at the end of the day support Bakau, and attract other people to come in and support the committee.
They sponsored the Bakau knock-out trophy last year after staging the event, he added, noting that the winner and first runner-up of the Miss Nawetan went home with a cash prize of D2,500 while D20,000 was used to sponsor the knock-out trophy.
Marong called on everyone to come forward and support the initiative for the development of Bakau Sports Committee, adding that their aim is to give more than D20, 000 this year.
There are a lot of young groups in Bakau and they hope they will also come forward to give a helping hand to the committee, he further stated, pointing out that if Stanfest is sponsoring the knock-out, other youth groups or sponsors should come forward and sponsor the pitch or pavilions.
Nyima Jadama, Secretary General Stanfest Promotion, said the group was formed two years ago in Bakau by young people with the aim of promoting music and culture both nationally and internationally.
They formed the group to also contribute their quota in national development, she added, and that the aim of the Miss Nawetan is to raise funds for the development of sports in Bakau and The Gambia in general, but also to develop the football field, which is not in the best of conditions.
The theme for this year's Miss Nawetan is: "Promoting peace and development in football", she said, pointing out that they believe the theme will contribute to Bakau sports, which has been associated with violence over the years.
Ousman Manneh, co-opted member Bakau Sports Committee, thanked Stanfest Promotion for coming to their aid for the second time.
Football goes with violence all over the world, he observed, but stated that in the past few years they have been conducting their nawetan violence-free.
"We say no to violence in Bakau football now", Manneh declared. "We are a civilize zone now".
Edi Bojang, vice president Miss Nawetan Organising Committee, said they need to work together for the development of the zone.
He called on the audience to come out and support their pageant as any team's contestant who wins will be a boost to the team.
The winner of the crown will represent Bakau in the Miss Zonals, he announced, highlighting that this could as well lead the winner to a bigger opportunities.
Tickets will cost, according to the organisers, D75 from 9 pm to 11 pm and D100 from 11 pm onwards.
Read Other Articles In Article (Archive)